NEWS
Eva Adams: New Series Casting Scoop!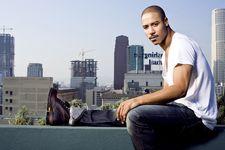 A fresh scoop of casting for yah this Monday morning!
Eva Adams, the upcoming new Fox series about a misogynistic sports agent who turns into a woman, is moving full steam ahead, stilettos and all.
Brian White, who played Detective Tavon Garris on The Shield, has joined the cast as Gavin Miles.
Gavin is a baseball player wooed by Adams, only to learn that Adams (on his good days) is a woman named Eva.
Article continues below advertisement
Dawson's Creek alum James Van Der Beek also stars in the series
Brian, who can be seen in the upcoming films Fighting with Terrence Howard and 12 Rounds with John Cena, has also snagged a role on TNT's pilot series Men of a Certain Age with Ray Romano.
That's the way to keep busy, Brian!