NEWS
Eva LaRue Dishes on Wedding Plans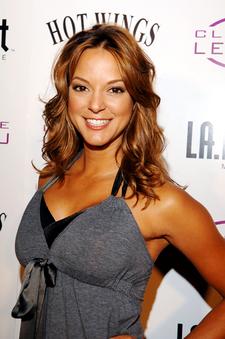 Twice-married CSI: Miami star Eva LaRue is hoping the old adage "the third time's the charm" holds true when she ties the knot with fiance Joe Cappuccio next year.
The star got engaged in May to the fishing company owner, whom she met after a mutual friend set them up.
"We went to Africa and got engaged at Victoria Falls," Eva tells OK!. "It was very romantic. He tried to ensure a 'yes' by taking me on a half day elephant back safari in the morning, then taking me on a helicopter ride over the falls. And then we landed and walked down to the falls and there was this rainbow coming up from the bottom of the falls where we were standing, and he proposed right there. He got down on one knee with a four carat diamond ring."
Article continues below advertisement
But it didn't all go smoothly.
"I was so nervous I put the ring on the wrong finger!" Joe says.
The couple plan on walking down the aisle next year during her summer hiatus from the CBS drama -- that is, if they can find a location.
"We're kind of going crazy trying to find a spot. We thought about going back to Africa, but we're afraid the kids are going to be eaten by lions. When you look the other way, your kid could be prey," said the actress, whose daughter Kaya is 6. Joe has two grown children of his own.
Previously married to John O'Hurley and John Callahan, the 41-year-old admits she was wary of taking the plunge again, but Joe changed her mind.
"He's really honest. He's so grounded and down to earth and funny and smart and charming," Eva says. "He's a great dad. All in this lovely Adonis body!"