NEWS
Eva Longoria Debunks Pregnancy Rumors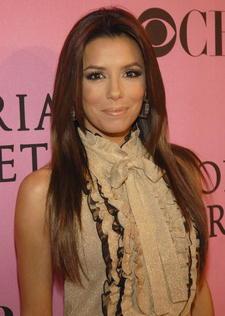 You can blame the writers' strike for no new episodes of your favorite shows, no Golden Globes... but Eva Longoria's rumored pregnancy? Yes, that was the Desperate Housewives star says as she dispels swirling reports that she's pregnant with hubby's Tony Parker's child.
"I'm not pregnant now!" Eva tells E!'s Daily 10. "I've just gained weight from being on strike. My publicist sends me a picture. She's like, 'So they're saying you're pregnant, you have a baby bump.' I'm like, 'I just finished eating.' I had no bump. I just ate pasta and Italian and my pants were too tight and totally have a gut. But this pregnancy thing, we're just laughing our butts off, cause I really just had a fat day."
Article continues below advertisement
Though she wants a large, multi-lingual (she wants her children to speak English, Spanish and French) family, the 32-year-old Over Her Dead Body star has no immediate plans to get pregnant yet. "I want to work hard now so when I do have children I can just kind of enjoy them later."
Eva also discussed that other rampant rumor about her personal life — that Tony supposedly cheated on her with French model Alexandra Paressant. The couple recently sued the Web site originally responsible for the story for running Alexandra's claims of their illicit affair.
"The Internet rumor is the first time we actually sued," Eva says. "Because it went a little too far. And for it being so false and so not true, it was like, 'Wow, really.' Like for someone to sit and make up so much stuff. So this is the first time we've sued."
The actress also offered some sound advice for fellow Texan and "Tony"-supporter, Jessica Simpson. The singer weathered a lot of flack for "jinxing" boyfriend Tony Romo's game against the Philadelphia Eagles last month and is again the source of anguish for Dallas Cowboys fans following the team's playoff loss to the New York Giants on Sunday — which occurred a week after Tony jetted off to Mexico with Jess and her family.
"People gave me that crap when I started dating Tony Parker," Eva says. "If he had a bad game they'd blame it on me. If he had an injury, it's like, 'What did you do to him?' What did I do? Believe me, they are not thinking about us when they're on the court, when they're on the field. It's like they've got more important things to do."
For more on Eva, tune in to The Daily 10 tonight!