NEWS
Eva Longoria Gets Political on 'Jimmy Kimmel Live'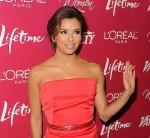 Last night during an interview on Jimmy Kimmel Live, Eva Longoria didn't hold back with her political views! Fresh on the heels of a big wig fundraiser for President Obama on Monday night, Eva raved about her opportunity to meet our commander-in-chief.
According to The Huffington Post, she dished, "It's a special privilege to meet our commander-in-chief, I'm a big Obama supporter no matter what he's been through -- he's been beaten up the past couple of years." She added, "He's been very receptive for me, I'm a big advocate for Latino issues, and so he's been a big listener and he's done a lot of coalitions and round tables regarding what we want changed."
Article continues below advertisement
OK! NEWS: EVA LONGORIA GUSHES TO OK! ABOUT PAL DEMI MOORE — "SHE IS AN AMAZING HUMAN BEING"
As she gushed about meeting the president, The Desperate Housewives star also took the opportunity to diss the tea party! "He keeps getting beat up lately because there's such an extremist movement, and for me, it's very dangerous because its not the character of America."
While she didn't exactly give a shout out by name to the party itself, when Jimmy mentioned them, the petite actress simply responded by saying they were "good for comedy." Then she added one comment about the end of the Housewives run by saying, "It's been eight years, it's been a really long run, so we're all kind of okay."