NEWS
Eva Longoria Parker: "I Am So Inspired By Women"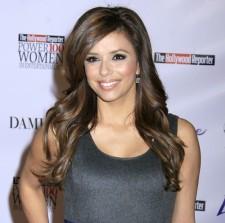 Eva Longoria Parker beamed on the red carpet this morning for The Hollywood Reporter's Annual Women in Entertainment Breakfast at the Beverly Hills Hotel. Eva was joined by other influential leading ladies including Halle Berry, Hilary Swank, and Nicole Sullivan. "It's exciting and I love this event because it really recognizes the contributions that women have made in the industry and I really feel like women in entertainment make it go round," Eva tells OK! about the honor of the event.
Article continues below advertisement
"I mean I don't think anything would be possible without those powerful women like Sherry Lansing, Halle Berry, and Hilary Swank," she continues.
Eva was named Philanthropist of the Year by The Hollywood Reporter for her work in founding Eva's Heroes, a nonprofit in her hometown of San Antonio, T.X., which provides an after-school program for individuals with developmental disabilities.
"For me, growing up all of my role models were women and that's where I get my inspiration from and that's where I get my motivation from so it was really fitting to get Philanthropist of the Year Award here at this breakfast because I am so inspired by women."
As for her own education, Eva has decided to go back to school!
"I have to go inside because I have a final today," she tells reporters at the event. "I do a lot of advocacy for the Latino community so I wanted to learn more about our particular history in American so I am getting my Master's in Chicano Studies."
EVA SHINES AT HOLLYWOOD REPORTERS EVENT: