NEWS
Eva Longoria Says Divorce "Agrees" With Her & She's Not Friends With Tony Parker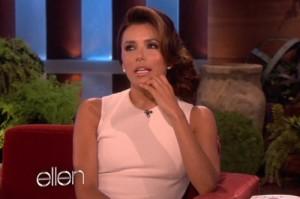 Eva Longoria speaks openly with Ellen DeGeneres about life after divorce from Tony Parker, and the actress has never seemed happier! In a candid interview, Eva shares why she feels (and looks) better than ever!
In a sneak peek clip from Eva's interview, airing today on Ellen, the Desperate Housewives star reveals lessons that she learned from her divorce from the San Antonio Spurs point guard.
Article continues below advertisement
"For me, being a woman, I realized you cannot identify yourself through a man or through your marriage... or through a partner. I think it's our nature to be socially constructed that way — to just be inferior or subservient and you don't have to be," she shares."You can be yourself and really hold your own by yourself no matter what partnership you're in."
Ellen responds, "Because when things — or if — I shouldn't say when ..."
But Eva echoed her sentiment, saying in Hollywood it seems to be "when."
Eva, 36, doesn't seem to be suffering from divorce doldrums at all.
"I'm going, 'Wow! I think divorce agrees with me,' " she tells Ellen.
But her smiles aren't because she is on good terms with Tony.
"You and Tony are friendly: Do you still talk?" Ellen asks.
But Eva quickly responds "No," shaking her head.
When Ellen questions if she is glowing because she is in love — she has been happily dating Eduardo Cruz —Eva simply responds, "I'm happy," despite the hosts best efforts to get more gossip from her.
Catch a peek of Eva's interview with Ellen, airing today, below. The new season of Desperate Housewives premieres Sunday, Sept. 25.