NEWS
Eva Longoria & Tony Parker Have Lunch Date to Discuss Divorce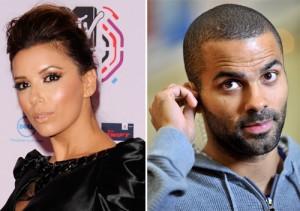 Eva Longoria and Tony Parker were spotted having lunch in L.A. yesterday, but it didn't look like the estranged couple was focusing on reconciliation. The date comes two weeks after Eva filed for divorce in California. Quickly after the San Antonio Spurs player filed in Texas. So what's the next step?
The former couple needs to decide in which state their divorce will be legalized.
Article continues below advertisement
Tony was in L.A. this week for the Spurs game against the Clippers, and met Eva at a hotel.
TMZ captured pictures of the Eva and Tony as they discussed the matter at hand. Judging by Tony's face and Eva's arm in the air, the duo was all business.
TMZ reports Tony's lawyer had concerns involving the prenup and felt Texas would be an easier place to handle the matter, in case Eva tried to challenge it in either way.