NEWS
'Total Divas' Eva Marie Talks Babies, WWE Departure, Bella Twins & Much More – Find Out When She'll Return To The Ring!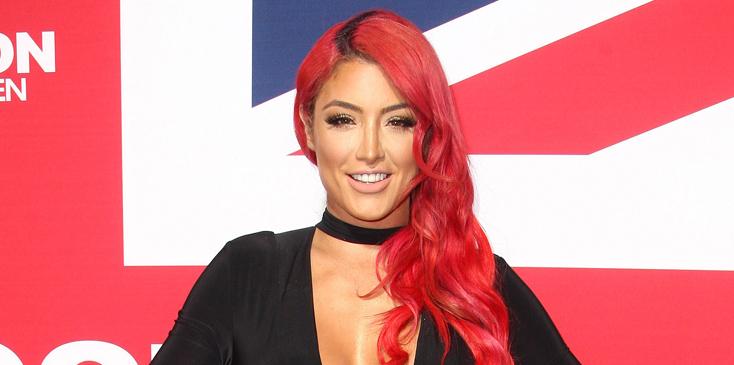 WWE's Natalie Eva Marie may have ditched her fiery red hair for Hollywood but that doesn't mean she isn't still ready to "kick some ass," she told OK! exclusively.
It's been just a few months since Natalie said goodbye to the wrestling ring and hello to la la land, in her pursuit of an acting career, and already the wrestling champ is looking forward to "global domination!"
"The last two months have been a whirlwind," she confessed. "I booked my first feature film last month. It's called Inconceivable. It's with Nicolas Cage, Nicky Whelhan, and Faye Dunaway… and two days before I wrapped that film I actually booked Action No. 1, which I'm working on now," she said. "I also launched my fashion line, NEM fashion, at the end of September so I've been trying to also work as I'm on the road with that."
Article continues below advertisement
"My ultimate goal is to emulate The Rock's career," Natalie confessed. How he made the crossover from WWE to mainstream Hollywood and went back and forth, bringing Hollywood to WWE and WWE to Hollywood. I plan to do the same and be the first female to do that!"
But first, Natalie has to return to the WWE ring, something she hopes she can do very soon!
"I don't know my exact return date," she revealed. "I'm hoping it will be before the first of the year just because there is no other Eva Marie out there. Even though my hair is black I'll still be bringing the heat."
And while the wrestler has been away from the ring for a few months she stays up to date on all things Divas!
"Sasha Banks keeps me up to date with what's going on," she said. "How things are going, how the locker room is. What girls I need come back and kick some ass. It keeps me aware of whatever's going down on the WWE end."
And first on her "ass-kicking" list is Becky Lynch. "Me and her have some unfinished business," she said seriously. "Before I left it was me and her. I can't say enough amazing things about Becky but when I go back to the wrestling ring it's game time and I'm going to have to snatch that title real quick!"
Article continues below advertisement
Surprisingly though, Natalie confessed there's no bad blood between her and the Bella Twins, who she's had a rocky relationship with for the past few years.
"My relationship with the twins is good," Natalie admitted. "On Total Divas you see rocky moments but I think that's how relationships go. Not all, but when you're constantly on the road with each other that's how the relationship goes because you turn into kind of sisters."
"And Brie Bella is pregnant now," she exclaimed. "So I'm really happy for her and Daniel Bryan because I know they've been trying for quite some time. So the fact that she's pregnant now ready to start that next chapter of her life is really cool to see."
And when it comes to slowing down her career and expanding her family with her husband, Jonathan Coyle, the actress said "never say never," despite her past trepidation to have children.
"In like four years maybe I'll be sitting talking to you with a baby bump, I don't know," she joked. "So we'll see, anything can happen. I am getting older though so I've been thinking, should I do the whole egg freezing thing? I might as well have the conversation with my husband."
Share your thoughts on Eva's exclusive interview with OK! in the comments section below.