NEWS
Eva Mendes addresses the pregnancy rumor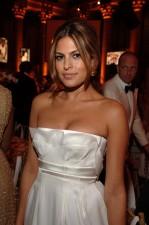 Eva Mendes, 33, doesn't feel her biological clock ticking.
"Could you imagine me having a kid right now, where I'm like 'hey Junior, come here?'" the We Own The Night star says at her Gotham magazine party held at NYC's Buddha Bar. "What a pain in the butt. Maybe in the future, but certainly, certainly not now."
How did the story that she's expecting get started?
"I had a huge pasta lunch, I walked out, and let it all hang out like I usually do," she says, moments after jokingly admitting she's six months pregnant. "This photographer came out and shot it, and you know what? I give him credit because it actually looks like I could be a little bit. But I just had a big lunch, that's it."
Article continues below advertisement