NEWS
Eva Mendes: I'm More Than Just Sexy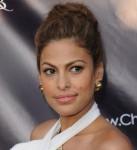 Eva Mendes has heated up the screen in Hitch and We Own the Night, not to mention posing for Calvin Klein in little more than body oil and a pout, but the Cuban-American stunner wants to be known for more than just her sex appeal.
"I'm definitely responsible for the image that I put out there. But it does become frustrating because I don't want 'sexy' to be my defining characteristic," she tells the August 2010 issue of Allure magazine. "I'd love for my ambition and will and intellect and sense of humor to define me as well."
Article continues below advertisement
OK! GALLERY: EVA MENDES HITS THE GYM
The star, who posed for the magazine in a barely-there leopard-print top says she makes her self-esteem a top priority. "I have worked very hard to love myself, and I do. I think that's what people may respond to with me," says Eva. "Cause there are a ton of beautiful girls in this business with beautiful bodies."
She also discusses the double standard when it comes to nudity in Hollywood. "When other actresses who aren't thought of, maybe, as being quite as attractive do full-frontal, they're called brave," she posits.
OK! NEWS: MOST GUYS WOULD LIKE TO BE WITH EVA MENDES
"Nobody has ever said, 'Eva, you're so brave for doing full-frontal nudity.' Just because I'm attractive doesn't mean it's not still scary. Why am I not brave?"
So how does Eva handle nude scenes and provocative shoots? "If a negative thought pops into my head, I talk to the voice within me and say, 'I know you want to tell me that I'm less than desirable, but not now. You can come back in a couple days and cut me down when I'm done with this shoot. I promise to let you in then,'" she says.
OK! NEWS: EVA ON HER RACY AD, "THIS IS BEAUTIFUL"
The remaining mystery in Eva's life is her longtime boyfriend, director George Augusto, whom she keeps well-hidden.
"I understand that because of my profession, I need to be open to… a lot. But he doesn't. It's not fair to drag him into that," she added.