NEWS
Eva Mendes Gets Shy While Talking About Ryan Gosling on 'The Ellen Show'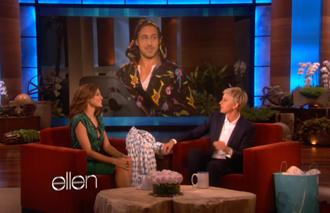 Article continues below advertisement
The actress got extremely flustered when Ellen made a reference to Ryan's last visit to her show, which got the crowd up and roaring. Eva apparently loves her onesie pajamas, and coincidentally, so does her boyfriend!
"We had someone on the show, I don't know you might know him, he's really good-looking, his name is Ryan Gosling?" Ellen sarcastically asked a giggling Eva, who replied, "Gosling?"
"I don't know if you ever run into him or know him in any way or see him ever, but you could ask him about the onesie pajamas," Ellen joked."So ask Gosling about the onesie, note to self," Eva said, before a curious Ellen interrupted. "So you call him by the last name, you don't call him Ryan... just Gosling?" That's when Eva, obviously smitten with Mr. Gosling, bowed her head and giggled, covering her face with her hair. OK! NEWS: EVA MENDES RAVES ABOUT 'AMAZING' BEAU RYAN GOSLING: "I'VE NEVER FELT MORE SATISFIED" But, to soothe Eva's embaraassment, Ellen explained that if she happens to "run into him" sometime soon, Ellen would like Eva to give Ryan a gift: two attached onesies — one for him and one for Eva. "I think both y'all would have fun with these, especially as an ice breaker for when you meet him for the first time," Ellen joked. "If I happen to see him tonight, I will give this to him," Eva said."Oh, so you're going to see him tonight!" Ellen stated, as Eva, who smiled from ear to ear said, "You never know!" Watch Eva's adorable interview with Ellen here!