NEWS
Eva Opens Beso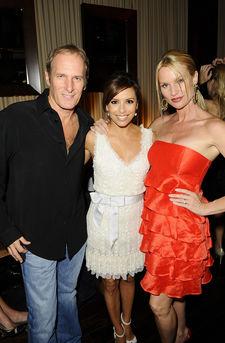 I just googled the word 'Beso' to see it's exact Spanish translation. The first entry that came up was from an Urban Dictionary. It said… Beso means a sloppy, drunk (redacted). But it can be used to mean slut or ho, too. For the most part, a beso is a party girl who is out of control. It can be used playfully between friends, but if you say it about someone you don't know it could be taken as fighting words.
Article continues below advertisement
To use the word in a sentence as an example it said, "Paris Hilton is an example of a beso."
When I went to a Spanish/English dictionary I learned Beso translates in Spanish as 'kiss.' There were a lot of kisses going on Thursday when Desperate Housewives Eva Longoria opened her first restaurant, Beso, with chef Todd English and so much Hornitos tequila that I overheard someone say, "Some people shouldn't drink that much tequila!"
At the party Todd quipped that the process of opening a restaurant was like birthing a baby. I saw Nicolette Sheridan, in a hot pink prom-esque dress, dirty dancing near the door with fiancé Michael Bolton, William H. Macy affectionately rub the small of wife Felicity Huffman while she chatted with Sheryl Crow, former Beverly Hills 90210 star Ian Ziering mingling (why?) Eric Winters (who I met via e-mail earlier in the day) and his gorgeous fiancé Roselyn Sanchez, a member of the Jackson clan, Shawn Pyfrom (he's much smaller in person), Dana Delany and James Denton from Desperate Housewives. Teri Hatcher was suspiciously absent, Marcia Cross was probably home with her twins and hubby Tony Parker was somewhere playing basketball. Eva kept male companionship with her BFF Mario Lopez, who she had an early dinner with on Montana Ave. in Santa Monica with prior to showtime and doled out acting advice to a neighboring table. Mario brought his girlfriend Karina Smirnoff.