NEWS
Evan Rachel Wood: I Hate The Gym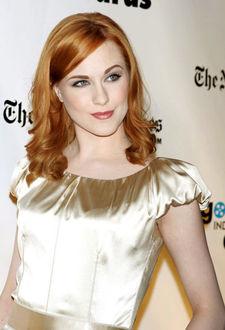 Evan Rachel Wood is moving on after the demise of her relationship with Marilyn Manson.
Looking fierce is part of her strategy.
When we meet on a cold winter's day in NYC, The Wrestler star, 21, is donning green nails. "It's Emerald City," she tells me. "I saw Cabaret, and I was like 'I want those.'"
After splurging on pickles and whipped cream during the holidays, Evan tells me although she gained weight during the season, she doesn't feel bad about it because she's stayed active.
Article continues below advertisement
"I take ballet, do pilates and yoga," she tells me. "I'm lucky. People say I have the metabolism of a hummingbird. I was born and raised in North Carolina, so I'm all about fried everything and carbs. That's what I do."
She shies away from the typical treadmill routine.
"I go to dance class. I like that. I hate the gym. I can't do that. I have to be doing something fun and interesting."
Moving forward, Evan is attracted to "personality and aura."