NEWS
Evan Rachel Wood Locks Lips With Mickey Rourke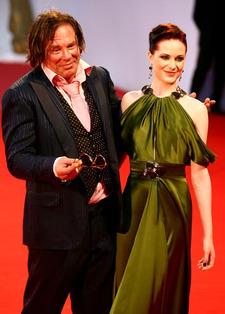 In the continuing real-life soap, The Young and the Wrestler, revolving around 21-year-old Evan Rachel Wood and her 56-year-old leading man, Mickey Rourke, it seems the co-stars are certainly heating things up offscreen, despite their protestations of friendship.
PopTarts reports that the duo were spotted in a lip-lock at the Four Seasons Hotel in L.A. after the SAG Awards on Sunday night. Evan, who played Mickey's daughter in The Wrestler (ew, ew) and her significantly older man have denied relationship rumors ever since they began working together, saying their interest in each other is far from romantic.
Article continues below advertisement
However Evan seems to have a hankering for older men – she just split with rocker Marilyn Manson, 19 years her senior, in December. Mickey is more than double her age, but who are we to judge?