NEWS
Evan Rachel Wood Not Dating Mickey Rourke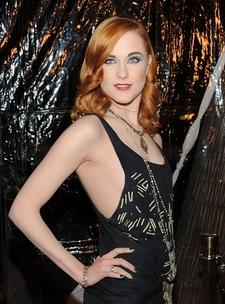 Evan Rachel Wood may have dated a man nearly twenty years her senior (she's 21, ex Marilyn Manson is 39) but as far as those rumors that she and The Wrestler co-star Mickey Rourke are an item? Not true she says.
"Blame Mickey for that one, Wood tells Parade.com. "He pulled an Adrien Brody on me. At the premiere, I went to kiss his cheek and Mickey kissed me full on the mouth. In that split second, 500 cameras went off!"
Article continues below advertisement
Wood, who plays Rourke's daughter in The Wrestler, says she definitely bonded with her much older co-star, but says rumors of a romance are way off base.
"My boyfriend at the time really loved that," she jokes. "Mickey and I are very close, but it's not romantic. It's like we're father and daughter."