NEWS
Evan Rachel Wood Says Kate Winslet Basically Dared Her to Do 'Mildred Pierce' Nude Scene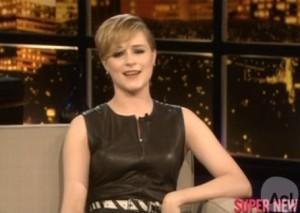 Article continues below advertisement
And the actress didn't want to look bad to Kate by not doing the nude scene.
"She basically dares you! She's like, 'I've done it all, all right. I mean I've peed on camera and then had to make out with Harvey Keitel.' And I was like, 'Wow. Yeah, that trumps my whole nude scene. So, I'm going to have to do this.' "
But, Kate did reward Evan for doing it.
"Well, she gave me tea during the nude scene and then afterwards she poured me like a vodka tonic and she was like, 'Here's to your first full-frontal!' "