NEWS
Evan Rachel Wood's Secretly Crushing On Justin Bieber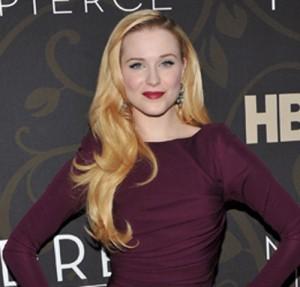 Evan Rachel Wood is the latest celebrity to announce she has been stricken with Bieber Fever. That's right. The actress is crushing on Justin Bieber.
"I'm really enjoying being single and concentrating on work right now. That and watching the Food Network and listening to Justin Bieber," Evan told Esquire magazine.
Article continues below advertisement
"People honestly think I'm kidding about Bieber. My mum is so confused. She's like, 'Evan, really?' I'm like, 'Go see Never Say Never. You'll understand,' " she added.
Evan also opened up about her relationship with rocker Marilyn Manson, whom she dated for four years.
"I didn't really get a normal childhood," she explained. "Manson gave me what I felt I'd missed out on, where you get to experiment and cut loose and change and grow. I lived 50 lifetimes in those four years."
She also shared that she was "up for" dating girls.
"I'm up for anything. Meet a nice guy, meet a nice girl," Evan said. "I was always into very androgynous things. Guys, girls … I'm into androgyny in general."