NEWS
Evangeline Lilly "Going to Cry Like a Baby" when 'Lost' Ends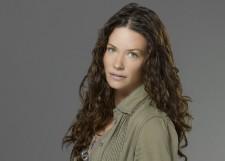 With only a few weeks to go before ABC begins airing the sixth and final season of Lost, the cast of the not-exactly-deserted-island drama are talking about what it's like saying goodbye to a show that's been their lives for the better part of a decade.
"I am going to cry like a baby when this show ends," Evangeline Lilly, who plays scrappy leading lady Kate Austen, revealed at this morning's press conference to promote the final season. "It's going to be life-changing."
Article continues below advertisement
Josh Holloway, better known as Evangeline's occasional onscreen love interest Sawyer, explained that "there's a lot of camaraderie on the Hawaii set. "It's like the first season.... a sense of nostalgia" pervades the production.
So what about rumored plans for a Lost sequel? Producer Carlton Cuse nixed that idea: "We're definitively ending this story," he confirmed. "The story of Lost is coming to an end this May."
With seven episodes — including the series finale — still to be shot, what will the cast do when they finally wrap production?
"We're going to hibernate because we're exhausted," said Evangeline about working on the intensely physical series.