NEWS
Eve, Wyclef, Estelle Give Props To Hip Hop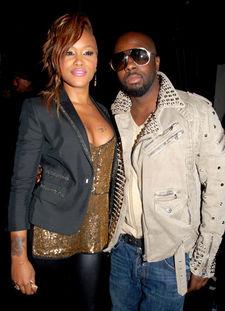 Stars roll down the purple carpet outside NYC's Hammerstein Ballroom just in time for VH1's Hip Hop Honors, which airs tonight.
Here's Eve, who is here to honor to Slick Rick.
"I'm very nervous that I'm going to get the lyrics right," she admits. "If I don't get nervous, I get worried. I feel like it's going to be bad. When I get nervous, I'm good."
Up next is the always-affable Wyclef Jean, who happens to be in town at the same time as his good friends Brangelina and family.
Article continues below advertisement
"They're doing great," he tells me. "They're great people, and actually I was just at a Clinton event, CGI. They didn't come, but they definitely sent their support to our foundation Yele Haiti due to the flood that just happened a few weeks ago. They're great people, great friends of mine, they're just great human beings."
Has he gotten to baby-sit twins Knox and Vivienne? "No comment, baby." And what theme song would best describe the family? Wyclef sings a familiar melody. "Monday, Tuesday, Happy Days; Wednesday, Thursday, Happy Days…I like that one."
Kid Rock slides through with a cigar in hand. When asked what he's working on, he thinks for a moment. "I'm working on myself," he says. Good answer!
Also looking for self-improvement is Estelle, who is riding the charts with Kanye West thanks to American Boy. According to the Brit crooner, the Golddigger rapper is misunderstood. "People were like 'he's an idiot, he's awful,' and he's never been that way," she tells me. "I look at him from the perspective that he actually believes in himself. I think that's amazing! I think that's what every human being should be about. Why not? Why not say I'm the ****? Especially because everyone is. If everyone felt that way and had that confidence in themselves, the world would be a much better place. There would be a lot less crazy going on."
Article continues below advertisement
How does she feel about the melee he got into with the paparazzi?
"Sometimes they get in your face, and I don't think he reacted particularly wrong," Estelle says. "They probably deserved it. I would have the same reaction myself, like 'get it out of my face.' I'm just glad to do what I do. I don't hate them."
Here is clock-wearing Flava Flav to provide comic relief. "I heard somebody asked Barack Obama 'are you black?' and he said 'yes, I'm black but not as black as Flava Flav.' Wowwwwwww. Let me find out that Flava Flav is renting a spot in Obama's mind. I love Obama."
Host Tracy Morgan couldn't be more excited about working with Oprah Winfrey on 30 Rock. "Oprah don't do nobody else's sitcom," he tells me. What's he going to say when he meets her? "How you doin'? What's up? Let me hold some money. I need it. Bail me out." And what about boss Tina Fey's impression of Sarah Palin? "Her impression in itself might decide who is going to be president of the United States. I think Tina Fey's Sarah Palin was on the money."
Article continues below advertisement
MC Lyte recently saw her good pal Janet Jackson perform in concert before she fell ill. Why does Miss Jackson make a good friend? "She's honest," MC tells me. "It's hard to find that sometimes. Also I make it my business to have friends around me who I want to be like or I want to embody something from them that's very positive. That's who she is to me." What does Janet have that she hopes to emulate? "The work ethic is crazy. To prepare for this tour, it was rehearsals for four months. I'd never do that! Rehearse for four months, are you kidding? But she does it, and I think that work ethic comes from being a Jackson no doubt. That's how I aspire to be."
Busta Rhymes can't resist talking politics. "The most appropriate people for the slots, their names begin with Bs, just like mine." Hahaha.
Hey, there's Ugly Betty's Freddy Rodriguez. Will Gio get back with Betty? "Oh I don't know, you've gotta wait and see. You've gotta watch."
Catch VH1's Hip Hop Honors tonight.