NEWS
Even Heroes Like to Party!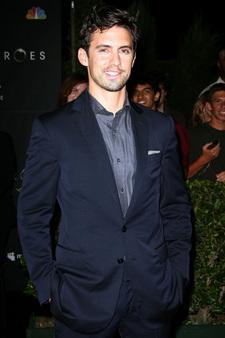 Are you ready for the new season of NBC's Heroes? The cast sure is, gearing up for the show at a "countdown to the premiere" party last night at L.A.'s Edison Lounge.
Milo Ventimiglia told OK! viewers should be eagerly anticipating their third season premiere on Sept. 22.
"Expect the unexpected," he said, adding that his character Peter "is not quite himself. He really is influenced by the people around him and may be acting out of character."
Article continues below advertisement
Milo was joined on the red carpet by his co-star and girlfriend, Hayden Panettiere, as well as cast members Jack Coleman, Ali Larter, Masi Oka, Zachary Quinto, and Adrian Pasdar.
Hayden's TV dad, Jack Coleman, told OK! the recent trouble with Hayden's real life father, who was arrested for allegedly hitting her mom, has not affected the young actress on the set.
"She said everything's fine. She's tough and resilient and so is the family and I don't think it was quite as big a deal as it was made out to be," he said. "I'm not taking sides but I'm just telling her that I'm there for her if she needs me, but she didn't take me up on it."
Jack had nothing but good things to say about Hayden, who rocked the red carpet in a black velvet blazer, skin-tight black Fendi pants, and red Christian Louboutin heels.
"Her poise is extraordinary," he said of the young star. "I couldn't handle her life as well as she does. There's no way I could handle people saying the things about me that they say about her."
How did Ali keep her poise for the party? By eating pepperoni pizza with fiancé, actor Hayes MacArthur.
"I learned very early on that if you don't eat before you come to these things, you are in such deep trouble," she confessed. "I'm a fainter, so if I don't eat every couple of hours, they'll lose me on the red carpet."
We wouldn't want that to happen!
Check out the season premiere of Heroes on NBC, Sept. 22.
Reporting by Carol Glines