NEWS
Here's Everything You Need To Know About Drake & Pusha T's Feud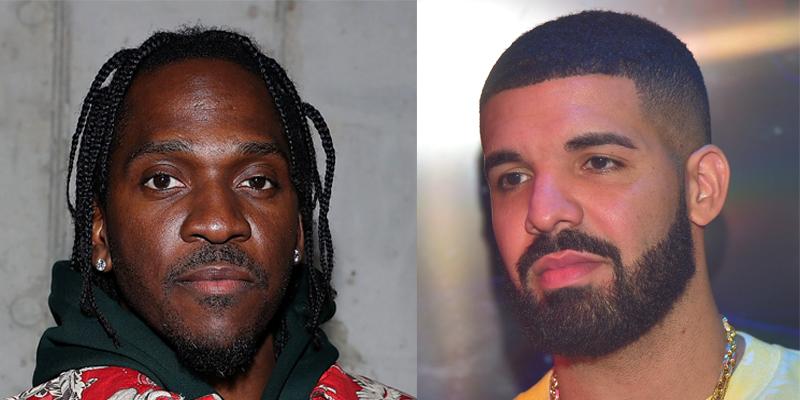 What a time to be alive! Drake and Pusha T's rap beef has gotten real personal.
Accelerant seemed to get poured on the already rapid flames that were the rappers' beef when Pusha released a vicious diss track titled "The Story of Adidon," on Tuesday, May 29.
In the new song, Pusha alleged that Drake has a secret child, Adonis, with former porn star Sophie Brussaux. The rapper also threw shots at Drake's producer and longtime-best friend, Noah "40" Shebib.
Article continues below advertisement
But, we'll get to that tea a little later.
First, let's get into how this intense feud got started.
The rapper's beef goes back to 2011 when Pusha seemed to target Drake in his song "Don't F**k With Me." Pusha then took shots at Lil Wayne and Drake in his 2012 song "Exodus 23:1," which Drake later addressed on his hit "Tuscan Leather," in 2013.
Since then, the two have become known for throwing jabs at each other on their albums. However, in the past week, their little feud has turned into an all-out rap war (dare we say, an old-school hip-hop battle) with the rappers taking shots at each other in back-to-back diss tracks.
On Friday, May 25, Pusha released his album, Daytona, produced entirely by Kanye West, which features a track titled "Infrared." The song attacked Drake's artistry as it alleged he uses a ghostwriter for his songs.
"The lyric pennin' equals the Trumps winnin' / The bigger question is how the Russians did it / It was written like Nas but it came from Quentin Miller, a rapper who Pusha believes is Drake's ghostwriter … "How could you ever right these wrongs when you don't even write your songs?," read the lyrics.
Article continues below advertisement
The Canadian rapper wasted no time responding to the ghostwriting allegations (which have haunted him since his rap beef with Meek Mill in 2015), releasing "Duppy Freestyle" less than 24 hours later.
In his diss record, Drake took shots at Pusha's career, calling it "faded."
He also reminded Pusha that he worked with Kanye to write "Father Stretch My Hands" and "30 Hours" from the rapper's The Life of Pablo album. However, Drake's mentioning of Pusha's fiancée, Virginia Williams, on "Duppy Freestyle," seemed to cause Pusha to snap.
First, the rapper responded to Drake by telling him to send him an invoice for his alleged services.
Within hours, Drake shared an invoice on Instagram, mocking Pusha, asking him and his team for $100,000 for "promotional assistance and career reviving." (The Internet loved it!)
Not one to be outdone, Pusha double-downed on his attack, releasing "The Story of Adidon" along with a photo of a young Drake in blackface as the diss track's cover art.
Article continues below advertisement
While the tone-deaf photo was enough to get the Internet going, Pusha's completely unfiltered lyrics sent shockwaves through the hip-hop community.
"Since you name-dropped my fiancée / Let 'em know who you chose as your Beyoncé / Sophie knows better, ask your baby mother / Cleaned her up for IG, but the stench is on her / A baby's involved, it's deeper than rap," Pusha rapped, alluding to Drake's alleged baby mama, Sophie. "We talkin' character, let me keep with the facts / You are hiding a child, let that boy come home / Deadbeat mothafucka, playin' border patrol."
He then went on to give more details about the rapper's alleged son.
"Adonis is your son / And he deserves more than an Adidas press run, that's real / Love that baby, respect that girl / Forget she's a pornstar, let her be your world," he added.
Pusha's lyrical exposure didn't end there. One of his last shots was directed at Drake's long-time producer, 40, for having multiple sclerosis.
"OVO 40, hunched over like he 80, tick, tick, tick How much time he got? That man is sick, sick, sick," he rapped.
Article continues below advertisement
Hours after the release of the explosive track, Pusha spoke to "The Breakfast Club" about his shocking lyrics, saying it was Drake's mentioning of his fiancé that sent him over the edge.
"That alone causes all bets to be off," he explained. "Everything after that is fair game."
Pusha didn't back down from his lyrics. He even shed more light on his words, alleging that Drake named his upcoming Adidas line after his son.
"We couldn't know about your child until you started selling sweat suits and sneakers," he told the radio show's hosts. "That's how he was going to roll out the news of his child."
When he was asked if he feels he went too far by talking about Drake's alleged son and 40's illness, he replied: "no, not at all."
Drake, who is set to release an album in June, has yet to respond to Pusha's claims.
Are you Team Pusha T or Team Drake? Sound off in the comments!