NEWS
Everything's Rosie Between O'Donnell and Star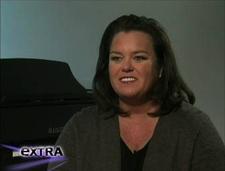 OK, guys -- you can put your "Team Rosie" and "Team Star" t-shirts away now. Rosie O'Donnell and The View host Star Jones have buried the hatchet.
The two of them used to squabble when they hosted the show together -- and eventually fell out off screen after Rosie said that Star was "delusional" for saying she had lost weight without the help of surgery.
But now Rosie has told Extra that they're socialising again -- and, anyway, it was never personal.
Article continues below advertisement
"It was never a personal thing with her. We're both strong women," Rosie told the show.
"We're the same exact age and I admired her in the beginning and then I watched her sort of get swept away in the insanity of fame."
(Erm, that sounds just a little personal, doesn't it?)
"We're actually having dinner next week," O'Donnell said.
O'Donnell told the show that she changed her opinion about Jones' weight loss saying, "To see her evolved into the woman that she is...I liked her. I watched her on that show and was really proud of her and happy for her."
And as for the delusional comment? "Everyone gets there in their own time," said Rosie. "It's sort of like people saying, 'Gay people should come out more'....Why didn't she talk about it? She wasn't ready to talk about it. But it was just hard to pretend as though we The View co-hosts believed."
Now O'Donnell and Jones are auctioning off a lunch date with the two of them in New York City to benefit the Figure Skating in Harlem's Skating with the Stars Gala. Jones is co-chair of the charity.
Extra's interview with Rosie airs tonight, and you can click here for more on this story.