NEWS
Listen In to OKMagazine.com's SiriusXm Radio Special Today at 10am ET! Read On For the Details!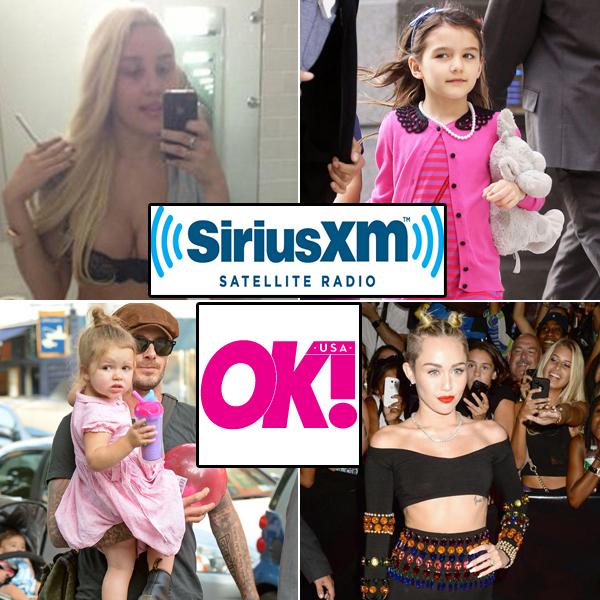 Did you hear?! OK! magazine is on the newstands, on the internet (hi!), on TV, and now, we're on the radio, too!
OK! News: How You Can Watch Us on OK! TV
Yup, this is exciting news. OKMagazine.com got our very own special on Sirius XM radio, "A Sirius XM Presentation: The Editors of OKMagazine.com Go Inside The World of Celebrity Kids," which YOU can tune into on Sirius XM Stars 106 at 10am EST on Friday, September 20 if you have an account with Sirius! What is the show about, you ask?
Article continues below advertisement
Oh, only our most favorite of topics—celebrity kids! Well, and celebrity adults who started out in the business as kids. First our three editors Lauren, Lea and Kaitlin will discuss LIVE on-air what went wrong with young celebs like Miley Cyrus, Cory Monteith and Amanda Bynes. Could their issues have been prevented? What were the signs? HOW DID THIS HAPPEN? We'll discuss.
On a lighter note, we'll also be talking about child stars who grew up to be totally normal, such as Tia Mowry and Soleil Moon Frye, and what went right with them.
And of course, we can't forget the adorable celebutots of today like Suri Cruise, the Royal Baby, North West and Blue Ivy. Tons of time will be spent on what it's like to be born into fame, which celebrity moms are the greatest, and, basically, why we're all so obsessed with all of them.
Article continues below advertisement
Forget already when this is airing because you're TOO DARN EXCITED? It's all going down at 10am EST on Friday, September 20 on Sirius XM Stars 106 (PS: You can sign up for a FREE TRIAL of Sirius XM right HERE). And the best part is that YOU can weigh in during the show with your own thoughts by calling in at 888-94-STARS or by tweeting us while it's happening at #OKOnSirius and/or at our Twitter handle, @OKMagazine. You can also tweet directly to Sirius' Twitter account, @SiriusXM.
Now let's reiterate: Tune in to channel Sirius XM Stars 106 on Friday at 10am EST, call us at 888-94-STARS during the show, or tweet us @OKMagazine or @SiriusXM. Don't forget! And stay tuned to OKMagazine.com and @OKMagazine on Twitter all week long for even more details on the show!
Photos: 25 Celebrity Weddings Noone Saw Coming
See ya/tweet ya/hear ya at 10am EST next Friday, September 20! Are you excited for OK! Radio? What topics and stars should we make sure to discuss? Tweet us @OKMagazine.