NEWS
Exclusive! Brooke Burke-Charvet: My Husband David Was My Rock During Thyroid Cancer Ordeal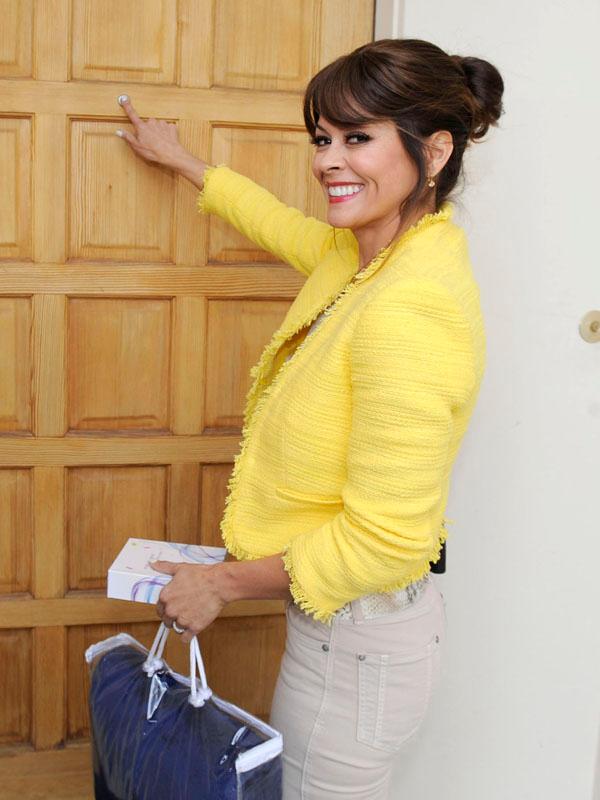 Article continues below advertisement
OK!: How are you recovering after your thyroid cancer surgery?
Brooke Burke-Charvet: I'm feeling great. I'm back to normal. I feel healthy, I feel relieved and very fortunate that it was the best case scenario. It's as good as it could have been.
OK!: What's changed for you since you've had this health scare?
BBC: Nothing really – I've never been one to take things for granted. It made certainly realize how precious life is. I don't think life has changed dramatically.
OK! GALLERY: KARINA SMIRNOFF, EMMITT SMITH AND CHERYL BURKE PARTY AFTER DWTS AT L.A. HOTSPOT MIXOLOGY101
OK!: You've paired up with Kleenex for the Softness Worth Sharing Initiative – tell us more about it?
BBC: This morning in Malibu at 8am, I knocked on the door of a complete stranger to surprise them and to be the first celebrity care pack messenger. It's a very sweet campaign delivering TLC and some great Kleenex brand products; tissues, lip balm and a cozy blanket and music – basically all the essentials that you need for a speedy recovery. And also it's very thoughtful so you can enter anyone you wish into the sweepstakes and hopefully they'll win and they have an opportunity to receive a care package during the sick season.
Article continues below advertisement
OK!: It's also about giving someone a 'small gesture' – what the nicest small gesture you've been given or you've given to someone?
BBC: I think my mom coming over cooking. I think I'm usually the caretaker so when my kids are down and they've all been sick in the last few weeks – I make a huge pot of chicken soup with vegetables and matzo balls and they love that. I really believe that being thoughtful and TLC helps anyone when they're feeling down. Unfortunately, it's usually me taking care of everyone else. But I did get my own taste of R&R when I was recovering after my surgery and my husband was so helpful and drove the kids to school and I didn't have to cook or do anything like that so it was a nice change.
MORE ON:
Brooke Burke Charvet
OK!: You had a month off to recover – an amount of time you've haven't had in a while because of your busy work schedule and family commitments..
BBC: It's the first time I've done that – it was mandatory – a health vacation. But it was nice to sit around and watch TV and catch up on some movies and not have to schlep to car pool every day. It was also nice to just quiet the noise and really get in touch with what's important at the end of the year and welcome a new beginning for 2013. It was a good time for me. It was a little hard. I did have cabin fever yes.
Article continues below advertisement
OK! You've been with David for 7 years, what's the key to making your relationship work?
BBC: I think communication is the key and chemistry and date night of course and just trying to make all efforts to keep the relationship sexy but still being realistic. With the 4 kids we don't get a lot of alone time but we still go out on dates and we still appreciate each other. I think it's really, really important not to take people for granted and not to forget about your partner – especially when you have a family. Everybody is important – your spouse, the kids, it's kind of a shared thing in our household.
OK! With 4 kids, a career and a husband – do you manage to take time out for yourself?
BBC: (Laughs) No! My workouts are kind of my me time which is a whole lot of fun. I actually teach a workout class now with a lot of my girlfriends in Malibu and I enjoy that – that's my girlfriend time. But no I don't get a lot of alone time. In fact, my biggest joy during my recovery was just movies and books and being able to read a magazine cover to cover - it's hard. I get my alone time in the airplane when I'm heading to New York for work which is sad but true.