NEWS
Exclusive! Dance Moms' Chloe Lukasiak Talks Season 3 and Abby Lee Miller: "She's Worse In Real Life"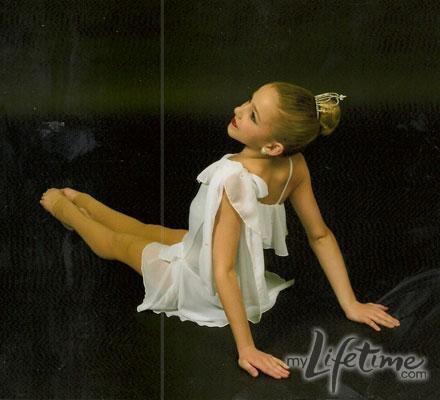 We honestly can't think of a better way to start a new year than with a brand new season of our favorite guilty pleasure, Dance Moms. We chatted with fan fave Chloe Lukasiak about her life as a Dance Moms star, what Abby Lee Miller is really like and what to expect in season 3!
"I've always kind of wanted to be famous, I just didn't think it would happen so soon," says Chloe, who has been dazzling fans with her lyrical routines since the show premiered in July of 2011. Of course, the sweetness and humbleness that's evident in such a statement is also a reason Chloe, who may not always top Abby's pyramid, tops the fans' lists of their favorite dancers every week.
Article continues below advertisement
Abby's pyramid -- a rating system for her dancers -- is something that was invented by show's producers to incite the drama that's made Dance Moms a hit.
OK! NEWS: DANCE MOMS STARS TEAM UP WITH STARLIGHT CHILDREN'S FOUNDATION; SHOW IS RENEWED FOR THIRD SEASON
"It's pretty real," Chloe says of what we see on each episode. The "realness" is just one of the things up for debate among those who tune in each week -- the believability factor takes a backseat on the message boards, in favor of Abby and her teaching methods. In one of the promos for the third season, Chloe is once again the object of Abby's wrath.
"Chloe was awful today, she s**t all over that title," Abby screams."You're replaced, that's it!"
Is that stuff hard to watch?
"Kind of," Chloe admits. "But we already lived through it. " Chloe says she watches the show with her mom, Christi Lukasiak, who has to live-Tweets with fans. "I just watch it to watch it," she adds.
At just 11 years old, it seems Chloe has already learned to leave the past in the past and keep looking forward -- that resolve is something she's going to need if she plans to keep on dancing with the Abby Lee Dance Company -- which she (phew!) plans on doing.
Article continues below advertisement
"I think we're going to be there the whole time," Chloe says of herself and her mom when asked if she ever feels bored with filming. "I think we will be there till the end." Season 2 finished with a cliffhanger, as Kelly Hyland threatened to pull daughters Brooke and Paige from the studio. Chloe hints that there is a "little twist" in season 3, but did not elaborate. "I guess you'll just have to wait and see," she said. If she wasn't so cute, that might have made us mad, but... she is that cute.
OK! GALLERY: DEMI LOVATO, SELENA GOMEZ AND JUSTIN BIEBER ROCK THE TEEN CHOICE AWARDS
Another reason Abby has drawn criticism from viewers is that she seems to pit her dancers against each other. At several competitions last season, she entered Maddie Ziegler, who is often seen as Abby's favorite, in the same category as Chloe although direct competition could have been avoided.
"Maddie and I are real friends in real life," Chloe says. "It seems like we're really competitive but we're really like, best friends."
Article continues below advertisement
And of her real-life relationship with Abby?
"Well... she's worse in real life," Chloe says. "I just take the corrections and I block the rest out."
That's pretty much in line with what Christi claims are the benefits of Abby's no-holds-barred teaching methods.
"I think our girls are learning coping skills," Christi recently told the Pittsburgh Post-Gazette. "One day, they'll be in a work environment and they will think, 'This is nothing, compared to this woman I had to deal with as a child.' "
That woman and the rest of the Dance Moms cast are back tonight with a 90-minute premiere at 9/8 p.m. CST on Lifetime!