NEWS
Exclusive: Harry Shum Jr. Talks New Short Film, 'Glee' and Future Projects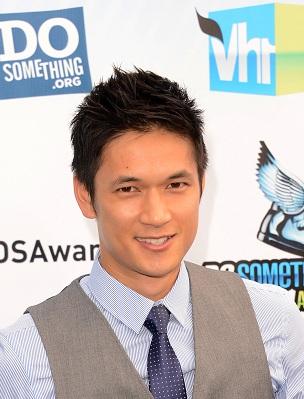 You know him as Glee's Mike Chang, and are probably eagerly awaiting his character's return to the hit Fox series on November 8 — as are we! But you don't have to wait until then to get your Harry Shum Jr. fix! The actor-singer-dancer has shared his latest project, a short film called The Last with OK!, and chatted with us about what draws him to certain projects and we he's got coming up!
The Last offers Harry fans a chance to see him in a setting that's much different than the one on Glee.
Article continues below advertisement
OK! GALLERY: GLEE STAR CORY MONTEITH ROCKS VERY UNUSUAL OUTFITS FOR SHOOT IN NYC
"I wanted to do something more dramatic," Harry told OK!. "I I thought it was a really well-written, very poetic script... It's all wrapped around our ideas of love. I think it gets people thinking and to feel something — both the younger generation, who might not have experienced that, and also the older generation who have experienced it."
You can see for yourself in the clip below, where Harry's character reflects on his experiences with love in the presence of his girlfriend.
"I think the way writer and director Phillip Wang wrote this, it wasn't just about, 'Hey, how many people have you hooked up with?' It was more in the sense of, 'What did you learn from those relationships?' Whether they were close friends, or you thought you were in love but you weren't, really. It was really brilliant, because it wasn't just about the people you have been in relationships with per se, but more so whether you learned from that experience, the different stages of love you have been in."
Article continues below advertisement
Although the script and tone of WongFu Productions' The Last is very different from Glee, that overall of theme of love is certainly one that Harry's delved into as Mike Chang! His character split from Jenna Ushkowitz's Tina, and on Nov. 8, the two reunite when they collaborate once again at McKinley High.
"He comes back to do some mentoring," Harry told OK! about his character's return. "You'll get some explanation on how Mike and Tina broke up and you'll see them being in the same room as well, and the awkwardness of that situation and how people try to make it normal. So, it's going to be really exciting. I'm happy to be back and see Mike Chang get in there, and you'll see him dancing again as well!"
OK! GALLERY: LEA MICHELE AND KATE HUDSON BOND AT GLEE SEASON 4 PREMIERE PARTY IN L.A.
Up next for Harry? He's got another short film coming out in 2013 called White Frog, and we wouldn't be surprised to see him continue to vary the scale of the projects he chooses.
"I love the big production," Harry said. "I love working on Glee. But with these shorts... I love coming off something that's a huge budget and then you're literally in a room with two people and a camera. It's a different method. It's just a lot more intimate and the clock's not ticking and you're not under that time crunch. I love getting to test some things out and seeing the footage in post-production and having a little bit of input on the direction of the short. I think it's a very collaborative effort. It differs, but I love both. It's a balance."
Check out The Last below!