NEWS
EXCLUSIVE IN THIS ISSUE: Snooki on High School — "I Was 80 Pounds"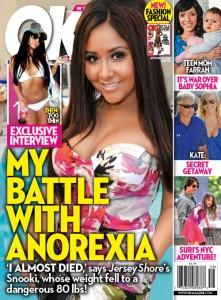 Jersey Shore's Nicole "Snooki" Polizzi struggled just a few short years ago with eating disorders — both anorexia and bulimia — as she tried to maintain a small size for the cheerleading squad. OK! caught up with the poufed spitfire at L.A.'s The London Hotel for an exclusive interview — only in this week's issue, on sale everywhere now!
OK! GALLERY: JERSEY SHORE CAST STROLLS IN SUNNY CALI
"It started when I was a junior in high school," Snooki explains to OK! of her troubles with dieting. "The reason I did it is because I was very self-consicous about cheerleading. There were these little freshman girls, and I was scared that these little freshman girls were going to take my spot."
Article continues below advertisement