NEWS
Exclusive! Jason Mraz's Ex-Fiancée Tristan Prettyman Reveals The Real Reason Singer Ended Their Engagement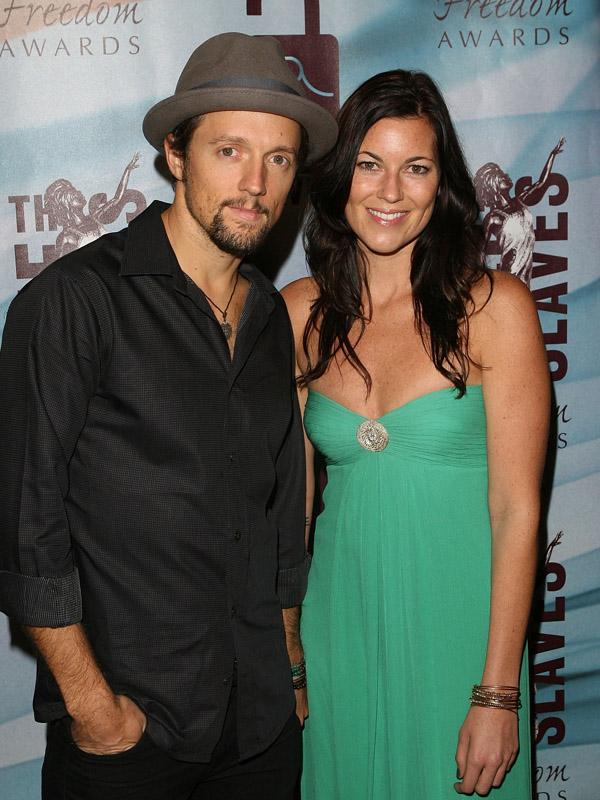 Tristan Prettyman was left devastated when Grammy winner Jason Mraz ended their engagement in the summer of 2011 just a short time after he proposed.
And the pretty brunette singer has opened up exclusively to okmagazine.com about overcoming the devastating heartbreak and how she has moved on with her life with a new love.
Tristan premieres her brand new track "Come Clean," in a video you can watch below, which is from the Capitol Records series "1 Mic 1 Take" where artists go into the historic recording studio and do a stripped down take on a song.
Article continues below advertisement
Her new album Cedar + Gold was penned when Jason unexpectedly broke up with her. Find out more about this budding new artist - and her bizarre pinky finger!
You wrote your album Cedar + Gold when your former fiancé Jason Mraz ended your engagement - was it cathartic for you to write?
It was most definitely.  I like to joke that my record label actually put me through therapy by allowing me to make this album.  Although, there is a good chunk of songs that deal with heartbreak, this album is really about finding your anchor, finding the strength to pick up the pieces after things don't quite turn out the way you plan, accepting the curve balls that life throws our way, learning the lessons, and rising above it all to see the very best of any situation.
Were you completely blindsided by the breakup?
I'm very intuitive, so I would say I knew something was up. I'm very sensitive to changes and energy in relationships even when the other person is putting on a good face.
Did Jason say why he ended it? Did you ever find out the 'truth'?
My song, "I was Gonna Marry You" is the answer to that. (Watch video below)
What are your views about Jason's single, 'I Won't Give Up'?
Article continues below advertisement
The song 'Glass Jar' on my record pretty much sums that up. 

How have you - or have you - been able to move forward?
Initially I was frustrated & for a long time I was very sad. But one day I had a thought: I don't want to be with someone that doesn't want to be with me, I wanna be with someone that can't get enough of me!!!
Are you dating someone new? Do you still aspire to get married one day?
I am. And it has been an amazing opportunity to just appreciate someone for who they are, and who they are not.  I think in the past I have definitely been accused of telling my partner that they should be more like this, or more like that.
I've learned that you can't change people. And if you can't accept them for who they are, all their weird quirky traits as much as all the things you love about them, you will never be happy.
My views on marriage have changed. The fact that someone can propose, with a beautiful ring and say everything you want to hear, and then just change their mind a couple months later. What does it even really mean? I think it means I dodged a bullet.
Article continues below advertisement
These days I am all about communication and checking in with myself to make sure I am being 100% my wacky, anxious, goofy, emotional self. If someone can't handle all the many sides of me, I don't want to be with that person.
Marriage isn't at the top of the priority list anymore. Being happy, building trust, feeling confident and being with someone who isn't afraid to let me shine, is where I'm at these days. I'm a very strong gal, I need a strong man, who is confident in himself.
Breakup songs have done very well for people like Taylor Swift and Adele - why do you think people like a good break up song..
Cause everyone has been there.  I think sometimes songs can put into words what a lot of people are feeling but can't say. Even if you are in a healthy happy relationship, you can still relate.
Did you hear from Jason when you released I Was Gonna Marry You (which is such a beautiful song - I love it!)
Article continues below advertisement
I did not. He did hear it when it was a demo, and his response was something like, "You really just laid it all out there didn't you?" - That's kind of the theme for the album. Why candy coat, or come up with analogies, when you can just get straight to the point? I didn't want to leave any room for guessing.
Why did you choose "Come Clean" for the 1 Mic 1 Take series?
"Come Clean" is a favorite. It's about doing a friend wrong, and feeling extremely guilty about it. How could I be capable of these actions? How could I let this even happen? After months of apologizing, and that apology not being accepted, I realized that I needed to own my mistake, swallow it, accept it and forgive myself.
I like this song cause it reminds me that I am not perfect. And I love the whole visual that the chorus creates: Coming clean when the lines get blurry, dirty... holding your breath, when you wanna scream...etc... Greg Wells (my producer) really brought it to life on the record.
What are your dreams and aspirations for your career?
I'd love to win a Grammy!!
This is my 3rd album. I've done so much already! I've traveled the world; I've shared the stage/toured with some of my all time favorite artists. I've met so many amazing people, eaten amazing food, worked with brilliant writers and producers. Everything is icing on the cake from here on out. For someone who never in a million years thought they would grow up to do this, I feel like the most fortunate person on the planet.  Right now, I'm having more fun than ever!
What is something about you that your fans don't know?
I have crooked pinky fingers! I am always so self-conscious about them! People always ask if I broke them, but they run in the family. My mom, grandmother, cousins, etc... we all have little crooked pinky's.