NEWS
Exclusive! 'Project Runway All Stars' Winner Anthony Ryan Auld Dishes on Fellow Designers, Katie Holmes & More!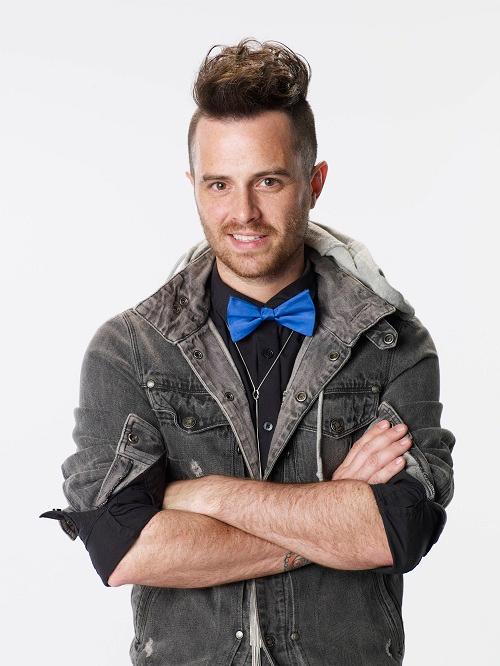 Last night brought the close of Project Runway All Stars' second season. Unless you live under a rock, you know that Anthony Ryan Auld of Season 9 was crowned the winner after showing his mini-collection, A Thin Line. OK! caught up with Anthony Ryan this morning and "Lordy" is he fun to chat with! Check out what he had to say about his time on All Stars, what it was like when Katie Holmes came to visit Parsons, and which celebrity he's dying to dress.
Article continues below advertisement
RELATED: ZAC POSEN JOINS PROJECT RUNWAY AS A JUDGE
OK!: How did this season of All Stars compare to your season?
AR: Ooh, Lordy. Well, I think it was a little more intimidating. Going into season 9 I didn't really know what to expect. We were all on level playing field as far as, we've never done the show before. But going into All Stars, it's like…OK, we're coming up against some of the most amazing talent from the previous seasons, and we've all been in this boat before so we all have an idea of how this game is going to be played. So, it was a little bit more intimidating. But for me, also a lot more fun. I think because I had that mentality going into it, like I was going to have a good time regardless. So me and Joshua McKinley cut up quite a bit. And, it really did help me grow as a designer. My aesthetic since season 9 did a complete 180 and I really was able to hone in on the direction I was going to take.
OK!: Which challenge was the most difficult for you?
AR: The disco challenge, the second one that we had. Just because I got eliminated on my season for it.Editors' Note: Whatever happened to the Sheepdogs, anyway? So I was just like, Oh, Jesus, I can't let the '70s kill me again! I think that really intimidated me. I had to make sure I wasn't going to go home on that challenge. I probably played it a little safe strategically, but at the same time, I wasn't going to let it bite me in the butt again.
Article continues below advertisement
OK!: Which of your looks from All Stars is your favorite?
AR: Probably the couture challenge. I really liked that dress. I really got that woman and how angry she was. It was very dark and she was really gonna kick your ass. I really enjoyed what I took emotionally from the stress of it, and how I channeled that into the dress. Now it really inspires my collection that I did.
OK!: If you were to create an all-star judging panel and you had to choose from the judges on your season and the all stars judges, who would be on it?
AR: Oh, Lord! I would probably say…I'd replace Carolyn Murphy with Heidi Klum. And I'd leave Georgina Chapman and Isaac Mizrahi. I honestly really enjoyed them. I really like Nina Garcia and her feedback, but if I had Joanna Coles, who is the editor of Marie Claire...yeah, I'll stick with Joanna and throw in a little more Georgina. I like Michael Kors, but at the same time, he and Isaac are both there for the comedy of it all, and I feel like I've got Isaac a little bit more on my side than Michael.
MORE ON:
project runway all stars
Article continues below advertisement
OK!: Which of the guest judges were you most surprised to see?
AR: Kyle Minogue! Kylie Minogue! I was so excited to see her. She's basically the Britney Spears of Australia, you know? She's huge over there and I listened to her growing up. I was very excited to see her. And I was also kind of blown away with Katie Holmes being there. That was literally two days after she announced the divorce and that was her first public appearance. So, the outside of Parsons from what I understand—and I saw pictures of it—was absolutely insane. For her to commit to that and have something something so controversial going and still honor that commitment, I think it really said a lot about her as an individual.
OK!: Was there anyone on all stars that surprised you in any way, either because of the impression you had of them from knowing them on your season or watching them on TV?
AR: Me, Laura Kathleen Planck and Josh were all really close before on season 9 . There was a little bit of tension there for a hot second. But for the most part, no, everyone was pretty spot-on. Except, Ivy tried to be this robot person and clearly she's still a b***h. She's still a b***h, you know, she just did a better job at hiding it.
Article continues below advertisement
OK!: You guys got to go to Paris this season! Where do you go for inspiration?
AR: I'd love to to Russia or Tokyo. I've always been fascinated with the idea of Russia. And definitely Tokyo because of that loud pop that they are, I think that would be really cool, especially with my design aesthetic.
OK!: What celebrities would you love to design for?
AR: I'm obsessed with Kerry Washington right now. I would love to get my hands on her! She just seems like a strong, confident woman and I could see myself on her laughs. Hopefully, I'll get to do some stuff with Joanna. She is and was a little bit of my muse. Those cool, simple ideas that she wears and great applications and bold colors. And after I made an outfit I'd go, oh wait! This really would look cool on her.
OK!: Next season of Project Runway will consist of all team challenges. What are your thoughts on that?
AR: They're just asking for it. That's all you really can say. I mean, if I was in that situation, I would probably shoot the producer, you know? You would just want to wring someone by the neck. But honestly at the same time, I can't wait for it laughs. It will be interesting to watch, I will say that!
Are you happy that Anthony Ryan was named the winner? Let us know @OKMagazine!