NEWS
This Explains a Lot: Taylor Momsen Fired Her Stylist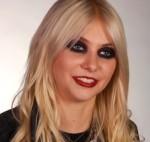 Remember when teens used to rebel against The Man and The Establishment? Taylor Momsen is following in the footsteps of punk rockers everywhere by rebelling against... The Stylist. Namely, her own former stylist, who was fired in an act of fashion defiance on Taylor's part. Maybe she advised T-Mom to wear pants just one too many times? Who could take that kind of pressure? The poor dear has had such a tough life.
Article continues below advertisement
Gossip Girl's most angst-ridden, needlessly petulant cast member dished to MTV about her style — which seems to consist of a lot of lingerie and ripped fishnets — and how her band, The Pretty Reckless, has influenced her clothing choices.
"I don't think the band has allowed me to be more free; I think firing my stylist has allowed me to be more free, and I now dress myself," T-Mom explains in a video segment.
OK! GALLERY: GUESS WHAT TAYLOR MOMSEN WASN'T WEARING ONSTAGE?
But that's not all she did! She really showed 'em by using naughty words and rolling her heavily shadowed eyes!
"And I told everyone who was telling me to look a certain way and set a certain mold for the niche I was being put into, and I said 'f*** that,' basically, and dressed the way I dressed before people saw me and I was in tabloids."