NEWS
Extreme Diets — Gwyneth Paltrow, Angelina Jolie & LeAnn Rimes Slim Down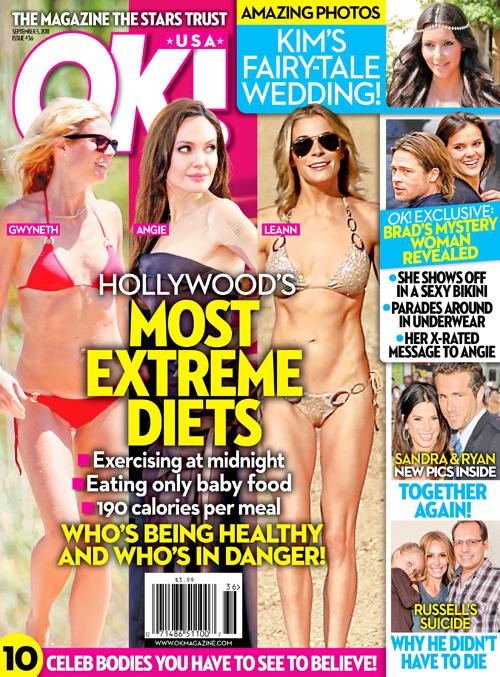 Hollywood's Extreme Diets: Who eats baby food to stay slim? Who has 190-calorie meals? OK! Examines the stars' eating habits, including the diets of Gwyneth Paltrow and LeAnn Rimes.
Brad Pitt: The truth about Brad's mystery woman: Her name is Lara Marsden — a sexually provocative Brit who's serving as his assistant — and driving Angelina Jolie nuts.
Kim Kardashian: Inside Kim's fairy-tale wedding to Kris Humphries. The reality star gave up the single life with a celebration worthy of royalty. Plus: How the bride dropped two dress sizes.
Sandra Bullock and Ryan Reynolds: They still say they're just friends, but after a Wyoming getaway, Sandra Bullock and Ryan Reynolds appear to be closer than ever.
Elin Nordegren: Elin Nordegren has found love again with investment tycoon Jamie Dingmans. But he may be a bigger player than her ex Tiger Woods. Is Elin headed for heartbreak again?
Russell Armstrong: The suicide of The Real Housewives of Beverly Hills' Russell has left those closest to him wondering why his death happened.
Summer to Fall: Stars like Emma Roberts and Kate Bosworth how to layer your favorite warm-weather wear into Fall
Beauty skin care: OK! celebrates the softest, sexiest and most-glowing skin in Hollywood, from Cameron Diaz's gams to Halle Berry's ageless face!
Article continues below advertisement