NEWS
Fabulous Stars Honored at Elle's 17th Annual Women in Hollywood Tribute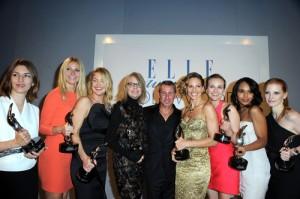 Last night some of the finest stars were honored at Elle's 17th Annual Women in Hollywood Tribute, including Kate Hudson, Jodie Foster, Diane Keaton, Jessica Chastain, Diane Kruger, Gwyneth Paltrow, Sofia Coppola, Hilary Swank, and Kerry Washington.
OK! NEWS: KATE HUDSON'S HOLLYWOOD HEREO — HER "BRILLIANT" MOM, GOLDIE HAWN!
Celebrating the women that make Hollywood such a special place, guests enjoyed a three course meal before Adam Shankman took the stage to host the bash at the Four Seasons Hotel in Beverly Hills.
Article continues below advertisement
Harrison Ford took on the duty of introducing his cast mate in Morning Glory, Diane Keaton, while Kathryn Bigelow introduced fellow director Jodie Foster.
Jake Gyllenhaal made for a few laughs as he joked about Gwyneth Paltrow before the Shallow Hal star took the stage to make her speech.
"Bottom line, she is not a mere mortal like the rest of us," Jake, who starred alongside Gwyneth in Proof, joked of the mother of two. "She is an Internet savvy, award winning, lifestyle guru making all of us look lazy. She doesn't just find a nice guy to settle down with. She marries a rock star and then domesticates him. She doesn't just cook. She goes to Spain with Mario Batali and then domesticates him!"
OK! VIDEO: GWYNETH PALTROW — COUNTRY SONG CROONER!
To end the evening, Goldie Hawn made daughter Kate Hudson emotional when hilariously recounting stories from the past.
Goldie joked that after giving birth, Kate, "clamped on. She was a voracious eater. She is a voracious human being and she still likes to eat. And she is also voracious about life."
An honored Kate, explained how much she looked up to her mother to close out the ceremony, also hosted by L'Oreal, David Yurman and Calvin Klein.
"I have a grounded, aspiring, philanthropist as a mother. She is not just a talent and crazy and gorgeous and beautiful. She is truly and inspiring mother. Again, I can only hope that as a mother I can live up to that."