NEWS
Face Time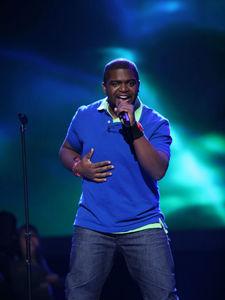 We all know that social networking sites are just thinly veiled popularity contests, right? Let's see what they can tell us about the biggest popularity contest of all: American Idol.
There's at least one group or fan page on Facebook for every contestant left in the running, all full of fans cheering on their favorite act (except, it seems, for the 75 slightly mean-spirited members of the group "Here's To Hoping Amanda Overmyer Gets Hit By Another Truck." Shame on them). All of the girls have had a healthy showing thus far, with Ramiele Malubay leading the pack with 2,107 online buddies (but, then, the racy pictures that showed up on her page the other day may be giving her an unfair advantage. Even so, the spoil-sports have now banned people uploading snaps of their girl).
Article continues below advertisement
Perhaps somewhat surprisingly, Brooke White is second right now, but the more shocking result is that one of the odds-on female favorites, Carly Smithson, is only the fifth most popular of the ladies, with 235 members in her main group.
It's the guys who are really pulling in the big numbers. A grand total of 2766 people have signed up to "Chikezie Eze: A Nigerian on American Idol." The people who started "1,000,000 Strong For Jason Castro To Be The Next American Idol" may be exaggerating a little, but with 9,387 they're miles ahead of third-place Chikezie—and nipping at the heels of early favorite David Archuleta, who leads the Face race with 10,191 friends.
As of today, the tallies stand at:
WOMEN
Ramiele Malubay: 2107
Brooke White: 1609
Syesha Mercado: 988
Amanda Overmyer: 711
Carly Smithson: 235
Kristy Lee Cook: 200
Asia'h Epperson: 197
Kady Malloy: 172
MEN
David Archuleta: 10,191
Jason Castro: 9387
Chikezie: 2766
David Cook: 2695
Luke Menard: 1715
Danny Noriega: 1640
Michael Johns: 1089
David Hernandez: 113
Think the Facebook friends are any indicator of who'll eventually take home the Idol crown? Check back in throughout the season for updates on the great Face race!