NEWS
Faith Hill Decks The Halls Before Halloween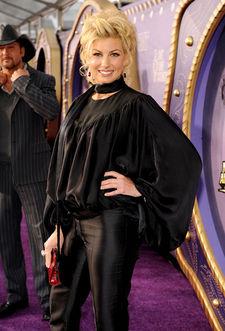 Faith Hill looks as festive as a tree ornament on the cover of her Christmas album, Joy To The World, which is in stores now.
The mom of three, who is wearing a flowing red dress with gold accents and matching jewels, certainly has practice decking the halls.
"I'm a huge Christmas fan and consumer," Tim McGraw's wife, 41, says. "You walk in my house, and it's like someone has vomited Christmas. I have the napkins in the bathroom with Santa Claus on them, and all that stuff."
Article continues below advertisement
She continues, "I waited a long time to do a Christmas record because I wanted to take the time to do it right. I really wanted to create an album like I'd listen to."
She's proudest of her new song, Baby Changes Everything. "I'm very excited."
Despite her passion for the holidays, don't expect Faith to pull the Christmas card again.
"I only want to do one. I'm happy, I closed it up, that's it. I won't do anymore Christmas. I'm very thrilled."
Wonder if her girls Gracie, 11, Maggie, 10, and Audrey, 7, have their stockings up yet?