NEWS
Faith Hill: I'm a Mom First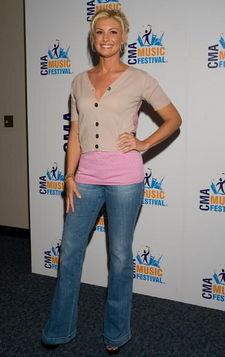 Faith Hill is in awe of her perfect life. The mom of three, who is married to Tim McGraw, enjoys it all. But is it ever difficult being married to someone who is considered to be a hunk?
"No, girl, it's good," she tells me backstage at the CMA Music Festival in Nashville. "No, it's really good."
Her girls, Gracie, 11, Maggie, 9, and Audrey, 6, aren't impressed with her success. They couldn't be bothered watching her perform at LP Field as part of the gig.
Article continues below advertisement
"I actually brought the girls with me today," the superstar, 40, says. "I made a big deal, like 'come hang out with mom, we can go and you can watch me rehearse. You can run around the stadium…' And I took them to this thing, this little listening thing they had, and I told them that they could serve everybody ice cream and cookies and stuff. And Gracie said 'well, how much are we going to make?' I was like 'well, how much are you going to make? Well, OK, how about ten dollars?' She goes 'can't do it for that.' I was like 'OK, how about twenty dollars?' And she said 'I'll do it for twenty dollars.' So they did really well. And they were going to come back tonight, but they decided it was way too boring and they were not interested. So they're at home. They stayed at home. They're not interested."
Typically, her daughters are with her everywhere she goes.
"We travel the world together, all of us, and it just works. I'm a mom first. I really am. And that's really where I'm at. I take care of my kids, and this is kind of… I was telling the girls on the way down here, I kind of feel like I'm off tonight. Ha ha ha. For real! I'm going to really party hard on that stage because I don't have my kids with me. I'm ready to rock because usually it's all about them. I feel like I have an off night!"