NEWS
Faith Hill Prepares for the Holidays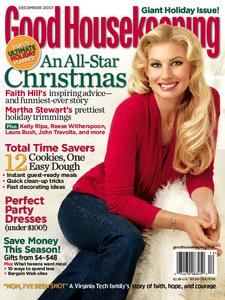 The holidays are fast approaching, which means it's time to go tree shopping for the Hill-McGraw family soon if they want to make their Dec. 6 deadline. Faith Hill tells Good Housekeeping in its December issue that the clan must have their Christmas tree up on that date — her daughter Audrey's birthday, who was born eight weeks premature in 2001.
"We were finally able to bring her home the day before Christmas Eve," Faith reveals. "So this time of year just feels extra special to us. And now, every year, to celebrate Audrey's birthday, we decorate the tree on the sixth."
Article continues below advertisement
While she admits it's difficult to keep a live tree fresh for all of December, she and hubby Tim McGraw wouldn't do it any other way. "We decorate on the sixth, and it has to be a live tree."
Other traditions include making food for the reindeer, personalized notes from Tim for each of their girls (the couple has two more daughters, Gracie, 10, and Maggie, 9) and lots and lots of food. But the 40-year-old singer confesses she needs to plan her cooking schedule better like her mother, who would whip up dishes days and weeks in advance.
"This year, I'll try to plan it out better," she says. "Because not doing it is not an option. I think I'm a lot like moms out there who feel like if we don't have the pecan pie we have every year, then it just won't be Christmas."
For the full story, pick up the next issue of Good Housekeeping, on newsstands Nov. 13.