NEWS
Faith Hill's Many Faces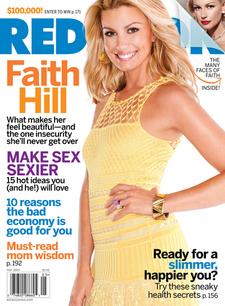 Hold the blonde jokes, please: if blonde is good enough for Twiggy, Grace Kelly and Brigitte Bardot, it's good enough for Faith Hill.
The stunning country singer recently underwent three transformations for a photo shoot featured in the May issue of Redbook, on stands April 28. As if one would need a reason to emulate the three beauties, she explains her decision to appear as these iconic ladies in an accompanying interview.
Article continues below advertisement
"Grace is probably the one that I relate to the most in my life and the one that I have most in common with," she Explains "I have this seemingly high-profile life, like Grace did, and we were both the mother of three children. She epitomizes the all-American girl with a quiet class and inner strength. She was like everybody's girl—seemingly comfortable and accessible—yet untouchable."
As for posing '60s supermodel Twiggy, Faith at a little more trouble.
"It was hard for me to look at myself as Twiggy," she admits. "I think she was in her late teens when the original photo was taken. And there's a very big difference between a teenager and a 41-year old!"
But sexpot Brigitte was her biggest challenge, as Faith reveals, "To me, sexuality is very different from sensuality. And Brigitte possesses this sensual essence that is so powerful. If I could possess that kind of sensuality, I would want to possess it like she does."