NEWS
Fame The Eze Way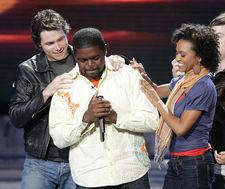 Some would say that going on American Idol is the easy route to stardom. Not Chikezie Eze. Today the latest contestant to be voted off the show told how he had to turn his quest to make it onto the show almost into a profession.
Just hours after crashing out of the competition that has been the focus of his life for four years, Chikezie also told us about his dream of supporting his mom and dad, and revealed the biggest inside-joke among the Idol contestants.
Article continues below advertisement
The former airport security guard, from Inglewood, CA, first audition for Idol in 2004.
He even got tantalizingly close to the semi-finals last year, but didn't quite make it through the Hollywood auditions. But each failed attempt, he says, made him more determined. "I kept thinking, 'What's wrong? Why aren't I getting anywhere? Why don't these people get what I'm trying to do?" he said.
"Going to Hollywood last year and going all the way to the end of the line before getting kicked off was what told me there's something missing. So what is it? So I went home and I studied, studied, studied," he said.
"I studied music styles, I studied artists, I video-taped myself performing and looked over it and said, 'what's missing? Why aren't I connecting and other people are connecting?"
So while many Idol contestants moan about the heavy workload during filming, Chikezie says that part was a breeze. "I worked as hard as I could to get here. The rest wasn't nearly as difficult as what I had done to get to that point. I was just enjoying the ride from then on."
Article continues below advertisement
Judge Simon Cowell praised Chikezie for his big stage-presence and command over the audience. So its hard to believe that because, he says, his mom and dad brought him up in a strict household, he has never been to concert and most of his experience of performing has been in a choir.
Chikezie said that the secret of his transformation from concert virgin to star was just playing at being a being a pop star, as if the audience was one giant bedroom mirror. "If you do all that stuff that you say, 'Oh, that would be cool if I could do that!' and all the stuff that you do when you think nobody's watching, all that crazy stuff that comes to mind, why not?" It's just lucky someone thought to take the hairbrush out of his hand before he stepped onto the stage.
Chikezie says that for all his hard work, by Tuesday night's Top 9 performance, he was resigned to his fate. "I knew I would be in the bottom three. I knew I was going home. That was ok with me," he said. "I already knew that Simon wasn't going to feel it, no matter what. I knew when I picked the song that Simon wasn't going to like it, so I came in knowing that and I did the song: I had to do what I thought was right and what I felt represented me."
Article continues below advertisement
The 22-year-old said that although he is disappointed that he won't get the chance to work with Andrew Lloyd Webber, one of the mentors due to appear on the show, he is glad to have got far enough to join the other Top Ten finalists on the American Idol tour. Now Chikezie says that he can't wait to start making his first album, and now we know how determined he is, when he says that he wants to "win at least one Grammy" in the next ten year, it's hard to tell if he's joking or not.
But forget about awards and platinum discs. Chikezie told OK! that his real goal is to make enough money to allow his Nigerian-born parents to retire. He said that he set out on his quest to be on Idol so that he could reward his dad Richard, a respiratory therapist, and mom Chika, a registered nurse, for everything they have done for him. "I don't feel that I've fulfilled that aim until a time comes where my parents no longer have to work, no longer have to feel that they have to get out of bed and change into this or that and drive off to work in the morning," he said. "When they don't have to do that, then I know my job is done."
A choir boy, a hard worker and good to his mom and dad? Chikezie must be every parents' dream. But he isn't too much of a goody-goody that he wouldn't reveal that he and the other contestants liked to have the occasional laugh at the producers' expense.
Chikezie said that most of the contestants can't stand doing the weekly group performances. "The whole thing is like, 'Oh my goodness -- here we go again! Does anyone actually enjoy these?" Chikezie groaned. And he admitted that some of the contestants turn the whole thing into one big inside joke, trying to out do each other by hamming it up as much as they can!