NEWS
Famke is a Beauty with Brains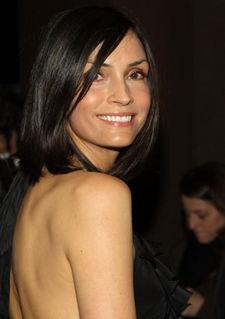 Famke Janssen brings her Boston terrier, Licorice, to The Regency Hotel in NYC when we meet. The model-turned-actress pulls out all the stops for "Licky" as she calls him. She places a brightly-colored food dish on the floor just in case the 7-year-old pup gets hungry.
Such is the life of the precious pet owned by the 42-year-old actress, whose pool drama Turn The River, is in theaters now. These days, Licorice is enjoying her attention. For two months, Famke's life was a pool game as she studied to play a pool pro.
Article continues below advertisement
Wearing a black dress and headband, Famke is the modern-day dream girl of my childhood crush. (He would give anything to be here!) Her kindness, warmth, intelligence and humanity certainly wouldn't intimidate, but immediately noticeable is her considerable height – she is nearly six feet tall. Is being tall a blessing or a curse?
"I've had every obstacle to deal with," the Dutch-born actress says, taking a sip of green tea. "Not that I'm complaining, it's true, I'm taller than most of my co-stars. Has it been a problem over time? Sure. There's a way to work around it sometimes. They give me big holes to stand in, or whatever."
Despite roles in X-Men and a slew of other movies, Famke couldn't resist this role as a pool-playing mom-on-the-run. Why? They offered her the lead.
"I have been acting for fifteen years, and I can count on one hand the times I've been the lead of a film. And I can't even use all of my fingers. Offer me the lead in the film, and I don't even have to open the script. I already want to say yes."
She adds, "When people go 'why did you take that part?' it's like 'because I want to work.' There's a misunderstanding about how many choices we have as actors. There are not that many great parts for anybody out there. I would love to do stage work but it's just about as difficult getting a part in a play as it is getting a part in a movie. And it's not easy to get any."
Article continues below advertisement
For one thing, the Columbia University alum has to battle her beauty.
"I had that model stigma, and then opened up in a Bond movie. I added another stigma. By the time anybody heard my name, I was model-turned-actress Bond girl. What chance is she going to have? Then I had to go fight and go all the other way in the opposite direction to be taken seriously, meaning I had to take small parts in movies supporting parts so I could show range. Like 'listen, I'm not some crazy foreigner who doesn't know how to speak English.' The only way I could do that was by taking parts that were less predictable."
Still, Famke isn't looking for fame.
"Success is never something I've pursued. It would hinder me and my life and how I like to live it. I live in New York, I want to walk down the street and have a normal life. I just want to have an interesting career."
So, we shouldn't expect to see Famke in another X-Men installment?
"I've done three X-Men movies, and I've died in two of them. Enough already."
Article continues below advertisement
For now, Famke is excited about tackling a new role now that she's a U.N. ambassador to Bali. "I'm getting a U.N. passport to top it off. That just means there's no lines. All the borders and lines are gone. I can travel everywhere because I have a U.N. passport."
Licorice takes a bite from the food dish at his mom's feet. "He is so spoiled," she gushes. A reporter tries to tempt him with a French fry but he stays by Famke's side.
Just another day in their fabulous life.
Turn The River is in theaters now.