NEWS
Fan Arrested After Crashing Britney's Circus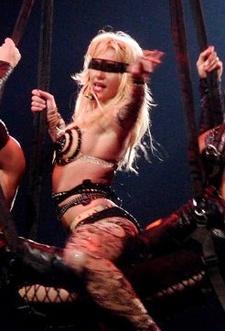 It's the dream of every Britney Spears fan to take the stage with the superstar to dance and sing along with their favorite song, but one audience member at Brit's Saturday night concert in Connecticut went too far — and ended up behind bars.
During the encore of Brit's hit "Womanizer" at the Mohegan Sun Arena, a fan — now identified as 20-year-old Kyle King — crashed the stage and began dancing only a few feet away from the superstar.
Article continues below advertisement
SCROLL DOWN TO CHECK OUT THE VIDEO!
It took Britney's dancers a few seconds to catch on that something strange was happening but they were — with the aid of concert security — able to have the intruder removed from the stage without much incident.
According to <a href="http://www.tmz.com/2009/05/03/crazy-fan-arrested-at-britney-spears-concert/" target="_blank">TMZ.com</a>, the Connecticut State Police arrested King for breach of peace and interfering with the police before being released Sunday morning after paying a $250 bond
<object width="400" height="246"><param name="movie" value="https://www.youtube.com/v/fPNK6_ruI-k&hl=en&fs=1&rel=0&color1=0xcc2550&color2=0xe87a9f"></param><param name="allowFullScreen" value="true"></param><param name="allowscriptaccess" value="always"></param><embed src="https://www.youtube.com/v/fPNK6_ruI-k&hl=en&fs=1&rel=0&color1=0xcc2550&color2=0xe87a9f" type="application/x-shockwave-flash" allowscriptaccess="always" allowfullscreen="true" width="400" height="246"></embed></object>