NEWS
The Fan Friendly Jonas Brothers Are All Smiles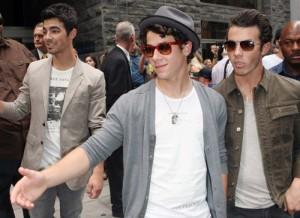 There is no simple task for the Jonas Brothers nowadays. Even exiting their hotel turns into a meet and greet. However, the trio is unaffected. Joe, Nick and Kevin Jonas had no problems showing their fans love on Tuesday while leaving their hotel in NYC. They flashed their adorable smiles, shook the hands of crazed young girls and tossed up peace signs for the cameras!
Article continues below advertisement
Their friendly attitudes towards their fans is definitely the major reason why so many young girls love them. Lustful adolescents adore celebs who give them attention and make them feel closer to their favorite pop stars.
OK! GALLERY: NICK JONAS LEAVES 'LES MIZ' WITH A LADY IN LONDON
If the Jonas Brothers keep this up, their fame flame will never die out!
By Nadia Ganguly