NEWS
Fans, Critics React to Britney's New Single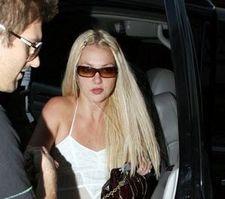 So... Did she do it again?
' new single "Gimme More" from her much-anticipated fifth studio album hit airwaves Thursday night and is fast climbing the charts. Another song, "Cold as Fire," has also leaked, and fans and critics alike are aren't shy with their opinions.
"I feel sorry for the state of the music industry if this is what's supposed to be good right now," writes one listener. "Groundbreaking my ass! We are talking about a major disaster here. This song is not catchy at all," writes another. But the criticisms are few and far between.
Article continues below advertisement
On the other side of the spectrum, it seems like people really do want more. Called "a masterpiece" by one person and made into a ringtone by another, "Gimme More" has impressed even the die-hard Britney fans who were expecting much worse. "The bitch has got like nine lives," one fan writes.
One music industry insider feels the same way, prefacing that while the tunes are not her best, they're surely not her worst either. "It's a step in hopefully the right direction," he tells OK! "With a little more push, and a little bit more production work, we could have her back."
But for the embattled pop star's comeback to be in full-swing, Britney's got to reprioritize because "if she focuses on what made her a celebrity in the first place and gets a good team of producers and managers behind her, I think think she has some good albums left in her."
Britney's as-yet-untitled new album is slated for a Nov. 13. Also scheduled is an appearance at the MTV Video Music Awards on Sept. 9, where it is believed she would perform the techno diddy for the first time. But the million-dollar question is, will she show up? "I want to say she'll perform because I'm really curious as to what she'll do," the insider says. "But taking a look at her past behavior, I'm not getting my hopes up."