NEWS
Farrah Fawcett Cuts Ryan O'Neal Out of Her Will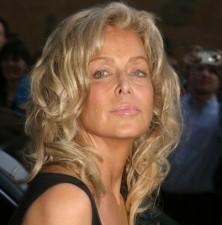 The details of Farrah Fawcett's will have emerged — and in a shocking twist her long-time love, Ryan O'Neal, gets nothing.
The Charlie's Angel icon left $4.5 million to her son Redmond O'Neal and $100,000 to an ex-lover, reveals RadarOnline.com.
According to the Web site — which has a copy of Farrah's will — the actress was also denied her final wish of dying at home.
Farrah updated her will on Aug. 9, 2007, less than two years before she died on June 25, age 62, from anal cancer.
Article continues below advertisement
In paragraph 5.2 a the will states: ""Settlor (Farrah) declares that she wishes to remain at home for as long as possible during any period of illness or incapacity and to die at home."
Instead, Farrah passed away at St. John's Hospital in Santa Monica, California.
While her son Redmond, 24, received the majority of her fortune, Farrah also left $500,000 to her nephew Greg Walls, $500,000 to her father James and $100,000 to ex-lover Greg Lott.
Former football player Greg, who claims to be Farrah's secret boyfriend, met the beauty at the University of Texas in the '60s.
The cast of characters who surrounded Farrah in the hospital and who were involved in her documentary, Farrah's Story — Ryan O'Neal, Craig Nevius and Alana Hamilton — were not named in the will.
Alana filmed much of Farrah's final documentary and wants to release a second installment of the story. Ryan, 68, claimed he asked Farrah to marry him in her final days.
Ryan, who has a checkered past involving arrests for assault and possession of drugs, bizarrely admitted he hit on his daughter Tatum O'Neal by accident at Farrah's funeral.