NEWS
Farrah's Pal on Teen Mom's Work Ethic — "She Just Got it Done"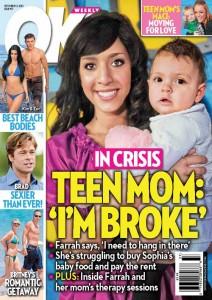 Farrah Abraham was forced to endure a tragedy and financial strife at young age. With only $100 in her bank account the 19-year-old Teen Mom knew she had to overcome her struggles and work hard to support her baby girl, Sophia. "Farrah worked extra to keep everything paid for," Farrah's BFF Kristina Lee tells OK! exclusively.
"She just got it done," Kristina shares with OK! commending about her pal's incredible work ethic and drive to support her daughter.
Article continues below advertisement
"Through every mistake she learns from it and moves on, which is what she's trying to do. "It's hard, but she's very capable."
OK! COVER STORY: TEEN MOM IN CRISIS — "I'M BROKE"
Check out Farrah on the After Show, via MTV. Farrah's segment starts at the 7-minute mark. The young mom talks about learning how to budget.
Teen Mom (Season 2) - MTV Shows
FOR MORE ON FARRAH'S BATTLE TO SUPPORT HER BABY, INCLUDING HER THERAPY SESSIONS WITH HER MOM, BUY THE NEWEST ISSUE OF OK! — ON STANDS EVERYWHERE!