NEWS
Fashion Designer Malan Breton Takes You Inside NYC Fashion Week!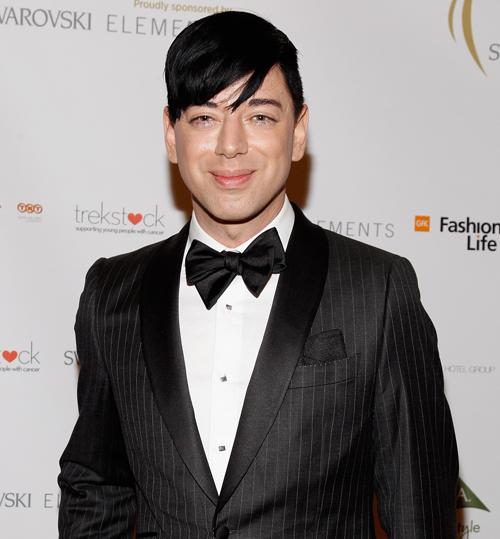 Once upon a time... New York City's most glamourous of the catwalk, uber models like Grace Bol, Naomi Campbell, Coco Rocha, and this season's it girl Karlie Kloss sashayed down the catwalk wearing the most coveted pieces in the world. From the stunning couture of Zac Posen, to the beautiful sportswear of Ralph Lauren, to the playful and coveted designs of Jeremy Scott, and the Blonds. Each of the shows a symphony of colour, structure, light, and shine. Yes darlings colour is a majour part of the Spring 2013 collections to come.
Article continues below advertisement
This seasons it boy Ryan Lochte was everywhere fashion was to be. From Sherri Hill, with Donald Trump, Kylie and Kendall Jenner, to Ralph Lauren. He was dressed to impress, I had the chance to chat with him briefly, such a sweet man.
Darlings Hollywood's latest stars/fashion designers gave us collections of incomparable dimensions, Victoria Beckham's strong showing was like a lover who gave you everything you wished for. Avril Lavigne at Style 360 was sportif and sexy, and Holmes and Yang at Mercedes Benz Fashion Week at Lincoln Center, gave us Americana at its finest. But the collection that was on the tip of everyone's tongue was non other than Rachel Zoe! Beautiful, elegant, and silhouettes that make a woman feel and look sexy, Brava Rachel!!!
I missed the stunning show of darling Avril because I was getting ready for the Broadway premiere of Chaplin the Musical. In attendance were Kevin and Joe Jonas, looking sporty and chic, Smash's Megan Hilty, and Sir Charles Chaplin's beautiful granddaughter and my dear friend Kiera Chaplin. Darlings it stars the MOST BRILLIANT actor I have seen on Broadway in twenty years, and he is only eight years old, Zachary Unger, BRAVO!!! It is fashion, film, and music combined, a brilliant show with a wonderful cast. I highly recommend going to see it.
Article continues below advertisement
Darlings we return to our regular broadcast, with fashions new guard. Farah Angsana's southeast Asian inspired couture, STUNNING! Marrisa Webb whose first collection post J. Crew was the most beautiful collection from a new comer at fashion week.
The week ended with the most perfect collection fashion week has ever seen, Michael Kors. With a front row that reads like Hollywoods A-list, Marisa Tomei, Katharine McPhee, Catherine Zeta-Jones and Michael Douglas were among the collections spectators. A collection that will remain my favorite for many years to come.
Well darlings fashion week and all 280 plus shows came and went, but unlike a fairy tale with the most happy of endings, it ended with the loss of my darling friend Robert Pendleton. In fashion there are thousands of people that make us the success that we are. From assistants, to cutters, to seamstresses, to the shipping people who send us our lace from France, our embroideries from India, to the show producers, the sales, press, pr, marketing, business minds, etc etc. Without them there would be no us. Robert was one of those people, his spirit touched so many in the fashion industry. I hope you are having Martini's in heaven darling!
Well darlings until next week, I wish you all love and glamour.
Bisous,
Malan Breton