NEWS
Fashion Week Diary: Day 6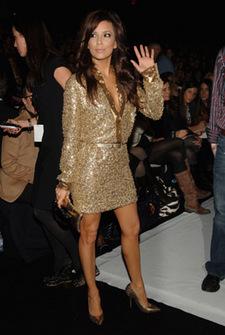 At the very lady-like Nanette Lepore show at Bryant Park, OK! chatted it up with former Sopranos star Lorraine Bracco, who said fans are still angry the Sopranos are no longer on the air. "They're very angry every time I meet people. They have nothing to do on Sunday nights and it's not my fault! Call up HBO! Yell at them!" But Lorraine has found a new TV set to call home as she's joined the cast of Lipstick Jungle. "I'm very excited. I think it's great. I think the girls are fantastic," she added, "It's great. I love it. I get to play the nemesis and I'm mean and ugly and I love that!"
Article continues below advertisement
Meanwhile Ana Ortiz has been hitting the Fashion Week scene nonstop but exposed her deep-seated reason why: "I'm born and raised in NYC, so I've always been a huge fashion fan. Being on Ugly Betty has given me the opportunity to have experiences like this."
The stars turned it out for the always very very popular Michael Kors show, whose lovely clothes embodied his American lady style. The front row was a who's who of Hollywood including Eva Longoria, Ellen Pompeo and her Grey's Anatomy co-star Eric Dane with wife actress Rebecca Gayheart. After the show, Kors fanatic Debra Messing was giddy after leaving the show. "I thought it was spectacular. I don't think there's a bigger fan!"
Outside the Mercedes Benz star lounge former OK! cover girl Eva Longoria says things are going great in her marriage, but kids? "Not anytime soon!" That may be a good plan of action as it seems the writers' strike will be over soon and she'll have to get back to work on Desperate Housewives. "Yeah everybody's excited to go back to work. We miss our cast and crew."
Next up was Carlos Miele. His funky chic look worked well with the smoky makeup provided by MAC. Carlos's neighbor ANTM's Nigel Barker was excited to try it out for his friend. "I don't think I'm a bad neighbor! Actually last season he lost a whole bunch of invites and I found them. They actually got redelivered to my address so I returned them to him. So I think I'm a good neighbor."