NEWS
Fashion Week Diary: Day 7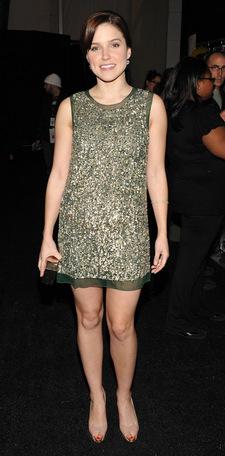 At the Naeem Khan show, which harked back to the designers Indian roots with lots of glitz and fabrics that looked like they could be used for saris. The show was Bollywood-esque. Project Runway judge Nina Garcia has no doubts that Naeem could go all the way in the competition. She told OK! "Are you kidding? He's amazing! His clothes are very special. They're unique."
Also in the front row was very Desperate Housewife Eva Longoria with her stylist the always-fab Robert Verdi. Eva said, "We're inseparable!" And admitted to being a huge Naeem fan. "Oh my gosh! I love that he has a small ethnic touch to it. I love beads and sequins. I love shiny! I love the way he cuts his dresses. It's very feminine. Yet, not over the top romantic. It's more sexy and I love that."
Article continues below advertisement
A favorite among the society set and fashion editors, the Bill Blass show was full of lady like gowns and ladies who lunch suits. OK! caught up with stylist to the stars Rachel Zoe hasn't used Bill Blass much before but senses a change for the future, "In the past not that much, but I'm certain I will now that Peter Som is at the helm."
She added, "I've noticed a lot of pencil silhouettes. I love that forties, fifties, sixties. I'd wear that."
Finally, Reem Acra had this year's fashion week staples in the front row like Sophia Bush and Aisha Tyler. The clothes that are hipster lady like chic are a favorite in Hollywood. Sophia Bush told OK! "I love Reem and I think she's an amazing designer."
"My style is evolving always," said the red carpet fashionista. "I love taking risks. I love being bold and feminine one day and very understated and slouchy the next day. That's the license fashion gives you."
The currently single One Tree Hill star told us her plans for Valentine's Day. "I'll probably be curled up with my dog and my best friends and watch a movie and eat take out and relax."
By Jocelyn Vena