NEWS
Fashion Week Diary: Day One, Cont'd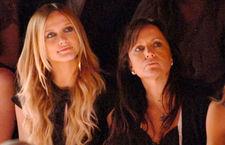 BCBG Show
Bryant Park Tent
Fashion Week kicked off at the BCBG Max Azria show where a stunning was trying to get through interviews with a very hoarse voice though she says it's typical for her. She did manage to tell OK! that aside from the clothing, she is a huge fan of Max Azria and his family. "They are the most wonderful people," she explained. "To see people who have a line such as this and success at this kind of level who are down to earth, kind and generous, I really love coming out to support them."
Article continues below advertisement
Sophia is also cramming a bunch into her short stay in New York and can't decide if she is going to check out Fashion Rocks or just go to dinner with 10 of her friends. She heads back to North Carolina on Friday to continue filming One Tree Hill where she just missed new co-star .
Also enjoying the BCBG show was country superstar with her adorable daughter Emma, who was introduced to . Ashlee was having a blast in the front row with her mom Tina. "It is very young and fashionable, but yet classic," Martina told OK! about BCBG. Other gals checking out the Must Haves were , , and .
Rag and Bone Show
Cipriani 42nd St.
This should be more like "skin and bones," as the trend seen for males is short shorts. Definitely need an avant-garde man to wear these. But it was nice seeing an extra bit of leg. was out supporting the line and looked so slim, even though she just gave birth to daughter Frances Pen in February. Momma has her figure back. Making a beeline to the backstage area before the show was who always looks radiant. At the end of the show, OK! caught up with who has so much going on right now – prepping for a movie role, her album, Liberation out at the end of Fall and her new single, "Dive In," out now - it is a wonder she made it to Fashion Week. She did tell Ok! what she thinks is sexiest on a guy. "I actually like pastels on a guy too," she said. "A guy that can rock pink; I find that really sexy." Mya is heading to the VMAs where she can't wait to see perform. "I hope she kicks ass," the Ghetto Superstar said.
Article continues below advertisement
L.A.M.B.
Bryant Park Tent
This show proves that is good at everything. Mega success with her band? Check. Sky-rocketing solo career? Check. Amazing fashion line? You bet.
At 8 p.m., the tent was bustling with All My Children's chatting it up with a slim while came to support her friend as did Sophia Bush, Eve and Diddy, who sat next to Gwen's hubby and baby Kingston who at moments, stole the show. Eve gave him a big tumble and Diddy kissed his hand. During the show, Kingston, with his baby headphones on, was seen grabbing Diddy's earring. When Gwen finally made her appearance in a short black/white number, she ran to Kingston and swept him backstage.
On to the Parties…
At Calvin Klein's 25th anniversary celebration for underwear, the best part were the male models in a glass box in the middle of the room. Ok, it also didn't hurt to be in the mix with Djimon Hounsou who came with , , , and a bunch of good-looking people. The highlight though: The cupcakes and s'mores.
Charlotte Ronson After Party
Bryant Park Hotel's cellar bar
Article continues below advertisement
To read about the fashions from Charlotte's line check out . At the after party, brother Mark, twin sister Samantha, and came to support Charlotte. When Adam walked in, he headed right to the bar to be with friends and seemed perfectly content until a publicist approached him to offer him a bottle of Belvedere and a table.
TENJUNE's ONE-YEAR ANNIVERSARY
This may not be exactly associated with Fashion Week, but the crowd at Tenjune's first birthday bash was certainly fashionable. After attending the Fashion Pre-Rocks party at Eyebeam Studios, Ashlee Simpson came to Tenjune to support and watch boyfriend as he DJ'd. The Fall Out Boy even got on the mic to wish Tenjune a happy birthday. Ash was enjoying herself and when the likes of DJ Cassidy, DJ Chachi and DJ Berrie relieved Pete from Dj'ing, he was at the corner table making out with his girl, she even managed to get in a face lick.
Also, Diddy seems to be reunited with as she kept gazing at him all night. In the back of the extremely crowded club, was with who came with his one-time girlfriend, Boy Meets World's , but he seemed to have his eye on the boys.
Everyone was having a great time dancing and then there were four added bonuses – a performance by Kat DeLuna who sang the hit of the summer, "Whine Up," and LL Cool J who proved ladies really do love Cool James. He ended his mini concert with "Rapper's Delight" and then Ja Rule, O'Neal, and Greg Nice took turns.
All in all, it was an exhausting, but delightful night.
By Alisandra Puliti