NEWS
Fashion Week Diary Day One: Part Two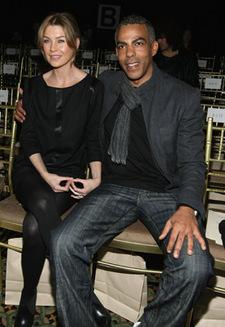 And I had run into stylist to the stars Robert Verdi in ten thents earlier that day and he had invited me to his VIP lounge. How could I resist?
After stopping by Robert Verdi's uber VIP, uber chic fashion week lounge where I was treated to getting my hair and make up refreshed (thanks Massimo and Kevin!), I made my way over to the Rag and Bone show. Backstage, hosted by Aveda and their green initiative, where models and hair were a plenty, I got the low down from the designers themselves of what their fall '08 collection had in store. Marcus said, "It's very complete, but still very, very rag and bone. This season specifically our English heritage, blade runner is a strong influence this season, English military equestrian." Meanwhile his partner in crime David added, "But it still needs to be modern and fresh and contemporary. They're garments a lot of girls and guys feel they can look good in."
Article continues below advertisement
The celebs were out in full force. Julianne Moore, Sienna Miller (who slipped in under the radar), Ellen Pompeo (who had no comment regarding Justin Chambers recently admitting himself into rehab), and even arrived ready for the show.
Dirty Sexy Money's Zoe McLellan, "It's extremely sexy and very comfortable." "I love it. We've been out on the streets. We're really soaking up the city."
Becki Newton, from Ugly Betty, admitted why she loves Rag and Bone so much: "It's easy to wear." But what is she doing now that the writer's are on strike? "A lot of hanging around and enjoying the time off." So we guess she'll have a lot of time on her hands to come up with a fabulous Valentine's Day to spend with her husband actor Chris Diamantopoulos. "We don't know yet! We better start making up an answer!" Any babies in the future? "AHHH! No baby plans!"