NEWS
Fashion Week Diary: Day One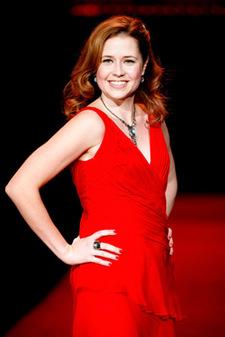 At the fifth annual Heart Truth's Red Dress Collection fashion show everyone from Cheryl Hines to Heidi Klum to even the First Lady, Laura Bush, walked the cat walk to raise awareness for women's heart disease. The highlight, of course, was Liza Minelli's stirring rendition of "New York, New York!" OK! was backstage before the show started and spoke with Cheryl Hines. The Curb Your Enthusiasm star recently directed her first movie, Serious Moonlight, said, "It was a great experience. We'll see how it all shakes out." We also had to know all about the future of her hilarious HBO comedy. "I talk to Larry about it all the time." "I don't think you can print it in your magazine. No No. I think he's open to another season. I don't know you'll have to ask him. I hope we do another season."
Article continues below advertisement
Meanwhile The Office's Jenna Fisher was playing model for the day and admits she never has had model aspirations. "No never. I actually hate having my photograph taken. I'm a way bigger fan of talk shows. I actually like the idea of a runway. There's movement, you're walking. I go to try to make it without fainting or something." And admitted to us that now that while the writer's are striking her biggest indulgence is The Real Housewives of Orange County. "I'm really sad that the Real Housewives of Orange County is over for the season. I love that show. I love that Vicky. She likes to party. She's growing her business. Laurie's wedding was gorgeous. So that turned out great, and I want Quinn to find a nice man. It didn't work out with the golf instructor but maybe next season she'll have more luck."
But worries about what the strike means for the crew of her SAG Award-winning sitcom." I worry about our crew. I've heard a lot of sad stories about crew members who are really struggling. That makes me sad. The actors we are already overpaid for what we do but the crew members don't. They're like our family. We miss being at work."
We almost died when Jenna's cast mate Angela Kinsley showed up, very pregnant, to show her support for Jenna. We told her how much we love Angela and she was shocked! "She's nasty. She's rigid. She's a little judgmental but she loves her man. Her big geeky man!" she added, "I'm def southern. I'm not confrontational so it's fun to play the bitch." Although The Office is currently on hiatus thanks to the writers' strike, we wondered what would happen if a very pregnant Angela had to be back in the Office next week! "That's a good question! Now it's late in the game so I feel like they'll be hiding behind a file cabinet. I'll be the blonde behind the photo copy machine for a couple of weeks."
Article continues below advertisement
Also on hand to strut her stuff was Allison Janney who's been all over the place thanks to Hairspray and Juno, the biggest hit movies of the last six months! "How lucky was I? I've been having the best time. And have them be so well received. It's been a blast!"
And 24's Mary Lynn Rajskub sporting the beginning phases of a baby bump admitted, "The pregnancy is pretty good. I'll eat any chance I get though. I don't know yet, I think I'm not going to find out. I've been craving ice cream and pasta!" We also got an update on her co-star Kiefer Sutherland, who was recently released from prison. She said, "I heard from a few people that's he's doing well. That he's happy and healthy and ready to get back to work."
After the show we caught up with Heidi Klum and had to know what she and Seal had planned for Valentine's Day. The model admitted, "No plans yet. Seal always does a good job!"
They may not have Valentine's Day plans as of yet, but any baby plans? "Not right now. Kids are so amazing. Obviously I could have thousands of them because they're all so amazing and unique and different. But three is a lot. Let's see what happens. It's funny you have three kids and people always ask where's the next one? Where's the next one? Let's start with one first!"